Who's the next player in the VR Fitness landscape? Pulse Fitness is the dedicated equipment wing of the overarching Pulse Group. Pulse Fitness has announced it will soon bring a series of immersive virtual reality machines for use in gaming environments to market. This VR fitness equipment was recently displayed during the International Health, Racquet & Sportsclub Association (IHRSA) show in Los Angeles, California. The event took place from March 8 to March 11. The new Pulse Fitness machines will appear in Europe during FIBO from April 6 through April 8. FIBO will take place in Cologne, Germany.
Pulse Fitness Background
The virtual reality and fitness gurus at Pulse have spent the past half-decade creating some truly amazing technology. The company has partnered with CSE Entertainment to make gigantic leaps forward in cardio equipment. Those familiar with this industry credit the Pulse Fitness and CSE Entertainment alliance with advancing cardio equipment more than any other group in the past 40 years. Pulse's new fitness software and hardware will be compatible with an array of cardio products including Pulse treadmills.
Tech Accessibility
Pulse Fitness creations will be immediately accessible through consoles. The virtual reality environments are fully compatible with VR headsets, making it a truly "on-demand" and democratized technology with mass appeal. Consider a situation in which one is stuck inside during a snowy winter evening and looking for a way to get some exercise. All he has to do is fire up his Oculus Rift virtual reality headset, load up a Pulse Fitness virtual gaming program such as a coastal environment and he will be immediately immersed in a 360 degree virtual landscape where he can enjoy a rewarding workout.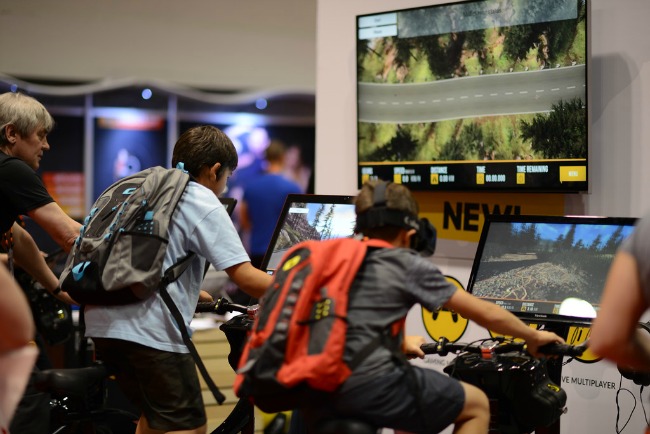 Pulse's Unique Virtual Worlds
The magic of Pulse Fitness virtual creations is their dynamic  nature. Each of these virtual reality environments is highly idiosyncratic in look and feel. The company creates virtual reality environments ranging from scenic countryside locations to stunning beach-side environments, bustling urban areas and beyond. Pulse's software creates seemingly real environments that allow the participant to look forward, backward, side-to-side, up and down just like he can in real life. Furthermore, the software features inclines and resistance that automatically adjust to the dynamics of the terrain.
A Fun way to Stay Fit
Pulse Fitness virtual environments are centered on the notion of having as much fun as possible while burning calories and slimming down. These VR environments are not completely isolated to the individual wearing a headset. Participants can engage in competitive races next to those in their real-world environments who don virtual reality headsets while using Pulse software. Or, they can compete in races with other virtual reality users across the globe in real-time multiplayer events. The technology even keeps track of previous race times and scores so users can find out if they beat their prior times.
The most important component of Pulse Fitness VR workouts is the fact that the user is empowered to exit his static real-world environment to enjoy a comparably dynamic virtual realm. These virtual spaces make exercise much more enjoyable, energetic and inspiring. This technology will attract those who have grown tired of their old workouts as well as those who are interested in gaming. In the end, Pulse Fitness provides an extremely fun workout that will ultimately engage more people in physical fitness. It just might be enough to get a sizable chunk of the masses off of the couch and out of their computer chairs to sweat away the flab in a truly immersive virtual reality environment.