Yesterday, the FitXR Team announced that their Vive, Oculus, and Windows Mixed Reality compatible VR boxing workout, BOXVR, has gone from solo boxer to multiplayer! The update to the workout app had another surprise in store, it can be played with mp3's and is now compatible with Itunes!
BOXVR is best known for being the only VR boxing and workout app that frequently gets updates to their workouts by fitness experts and instructors. Their team curates cardio boxing workouts that zero in on strengthening the upper body, core, and lower body while also increasing stamina. We are currently runing a VR Fitness Challenge and playing BOXVR for the month of April. 
Check out vrgamerdude and Silverlox VR exercise in BOXVR for the VR Fitness Insider Fitness Challenge!
Make Weight With Multiplayer
Going from an embodied solo shadowboxer hitting orbs and skeleton skulls to group multiplayer means two things — group workouts and no excuses! All players need to do is sign in to BOXVR and click on the multiplayer tab to add up to 6 people from their friend's list and create a workout group.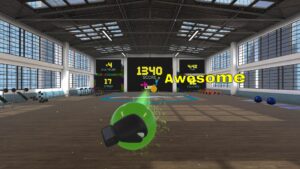 Not only does their new multiplayer boost accountability with group exercise, it's also a huge motivator. Try not to compete with your friends or cheer them on as you see them aceing those tricky uppercuts, jabs, and hook combos in a high score match! Or if you're super close, taunting them if it'll mean they'll punch harder.
People who work out in a group or with friends experience higher workout retention rates and better their odds of reaching their fitness goals. Exercisers find that time dilates and passes quickly while in BOXVR, making the exercise less like work and more like a game! Try to escape or skip a workout when a friend is there to tell you to sign on or to keep going.
Another updated feature is that VR owners who share their headset can now create individual profiles, so a friend or family member's scores and personal fitness data are kept separate from your own. This new setup is super helpful in keeping profiles private but is a great way to keep users separately accountable for their own success.
Punch Up That Playlist
Fire up that workout mix, it's gonna get sweaty! The BOXVR app used to only be compatible with mp3 files but is now supporting AAC files for Itunes! The boxing apps newest music update is a huge quality of workout improvement for members of their fitness community who are pushed harder and more motivated to achieve their fitness goals with music.
Set up an mp3 or AAC file playlist with your favorite warm-up, high energy, and cool down music in Train mode. This addition to Train mode increases the enjoyment of punching your way to fitness in a spooky graveyard, New York gym and other environments and then emerge out of VR dripping with sweat.
The Future
BOXVR is aiming to keep improving their app with discussions of heart rate integration, music streaming, and user-generated content. This information was released at the beginning of April in their Steam discussion board.
We're hoping that by streaming they mean Spotify since it can be used on a PC desktop, however, we don't know if that's even possible. Having the option to pair a smartwatch or heart rate monitor to the fitness app could mean more accurate heart rate and calorie burn readings.
Also up for discussion is the option to host user-generated content. Having user-created content can potentially mean more diverse workouts and different environments depending on what they decide to do.
VR Heavyweights
The BOXVR Team is currently sculpting their labor of passion in early access but their app is still highly playable. With consistent updates to their environments, music, player options, as well as ever-changing workouts, BOXVR's Team is quickly becoming heavyweights in the VR and fitness industry!
A high-quality fitness app like BOXVR will take some time to reach max potential but their updates are gaining steam and showing the ways they are listening to their virtual community. Find out more about BOXVR and FitXR on their Twitter, Facebook and Instagram pages.