Most people have given some thought to embarking on a country-wide bike ride yet few actually follow through. Such a trek is quite difficult due to weather, work responsibilities, family responsibilities and other factors. However, VR is making such an adventure possible from the comfort of one's home. Look no further than British computer programmer Aaron Puzey for evidence.
Biking the United Kingdom in Virtual Reality
Puzey is garnering plenty of attention for his virtual bike ride across the United Kingdom. He calls his app "CycleVR". Puzey is the first person to bike the country from one end to the other in a virtual setting. The beauty of such a trek is that it does not require one to leave his responsibilities and the comforts of home behind. Puzey was able to tend to family responsibilities, work tasks and other matters as they popped up. This is precisely why so many people will soon turn to virtual reality rather than real-world activities.
Puzey made his trek with a Gear VR headset, his android phone and a low-cost bluetooth cadence monitor. Each of these items is well within the budget of the typical person. Anyone who is looking to get in shape, stay active and experience a vivid virtual reality setting should consider copying Puzey's trek or a unique adventure of their own. The forementioned bluetooth cadence monitor counts pedal movements for progression along the 3D environment created by Google Street View. This virtual setting is presented in stereoscopic 3D on the Gear VR to replicate the joy of cycling across the country on a bike.
Details of the Virtual Bike Ride Across the UK
In total, Puzey's trek across Britain extended 1500 kilometers. He biked for 85 hours at an average speed of 17.6kph, burned more than 50,000 calories and had an absolute blast. Puzey's virtual bike ride led him through 300 towns and villages, a total of 22 counties and plenty of beautiful scenery. He even witnessed a fist fight on his virtual trek across the UK.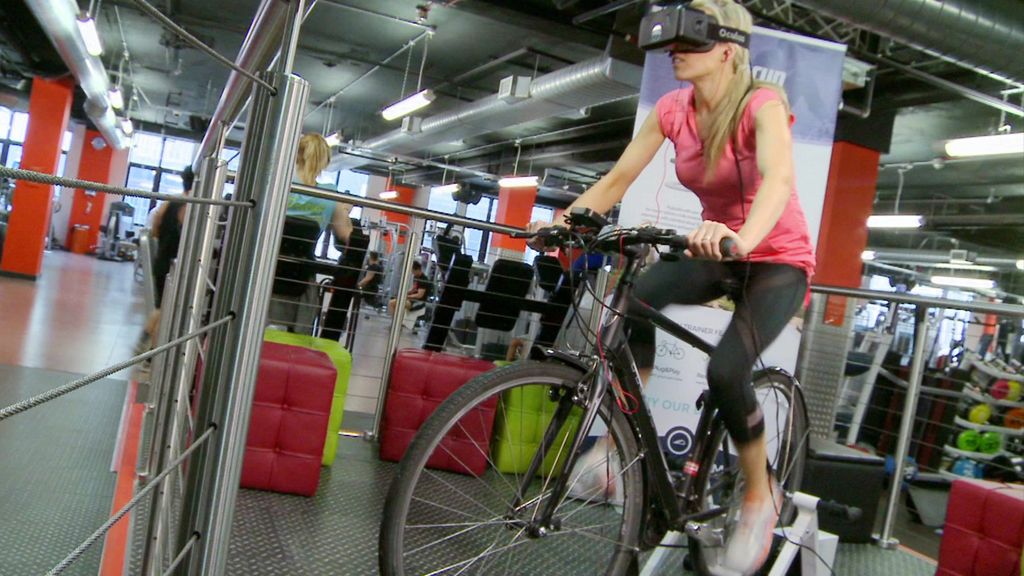 The Magic of VR Exercise
When Puzey spoke about his epic ride across Great Britain, he was quick to point out that he dislikes exercise. Like many people, Puzey finds real-world exercise to be quite boring and only engages in physical activity to maintain his health. Puzey and just about every other bicyclist is willing to admit riding through the same settings over and over again becomes a bit tiresome.
Biking in virtual reality gives one the chance to enjoy a highly unique environment that inspires rapid pedaling as well as longer rides. This is precisely why Puzey turned to Google Street View for his new way of biking. His implementation of Google Street View in virtual reality allowed him to see his home country in all its beauty without leaving his living room. It is quite the stark contrast to staring at an all-beige wall while pumping away on a stationary bike. Biking in VR really is the perfect solution for those who can't afford to travel, those who don't have the time to venture to far-away places and those who have grown tired of biking through the same environments. Furthermore, one does not have to endure rain, wind, sleet, snow and other inclement conditions when biking in virtual reality.
VR Cycling is Coming to Your Living Room
Puzey's app will likely make its way to homes across the world. He is currently searching for the right business partner to bring CycleVR to the masses. Puzey has stated that such an alliance will make it possible to launch a consumer version of CycleVR by the end of the year. This app has the potential to become a massive hit as most people are familiar with the exquisite visual detail of Google Maps and would certainly welcome the opportunity to explore these spaces in virtual reality from their living room.