Welcome to Hoverskate VR, a skateboard game that seems to have completely missed the point of a skateboard. It is still one of the first of its kind, so I'm going to review it and give a few suggestions on what they did wrong and how it can still be a good game.
What is Hoverskate VR?
If you liked the skateboard games of the past, then you will likely loathe this one. Instead of using a pressure board, maybe including the smart device to help them out, the team developed a game where you skateboard with your hands, instead of your feet, as your feet. The game is still in Early Access though, so it might change in the future provided some hardware is made available.
Graphics and Visuals 1/5
What graphics? You have a board and a block that looks like it was crafted in moments in Blender. Well, there are more blocks than just one but the visual cues note that it's a copy and pasted block that's just reshaped over and over to make it resemble a skate park. The only part I can think of where this game provides a graphical flaunt would be the many board styles and shoes that you can customize your avatar with.
Hardware Requirements 3/5
You need at least an i5 processor with 8GB of RAM and 2GB of space. You will need the standard GTX 970 graphics card though. I would like to point out, though, that this is an early access game and as more is introduced into the game the standards for this game will likely go upwards.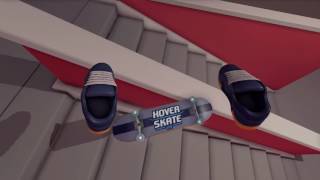 Fitness 1/5
You are using your hands to work on a glitchy board where the game controls the continuing speed. Once again, we wind up with a question "What fitness?". This is one of the first of its kind and it is such a blithering example of how to not make a sports game. This is skateboarding and don't even act like you can just put hover in the name to justify using hands: that's not how a board works.
Gameplay 2/5
The game is horrible when you first start and is not really that intuitive. You will spend minutes to hours getting down the pattern the game needs in order to recognize a grind. You will likely get frustrated when you need to jump buildings. Last of all, the lack of things to do in this game are appalling. The most impressive part of this game has to be the amount of flip and grinds you can do, that number is truly impressive.
Overall Rating: 2/5
I know that this game was made by a single developer and I know that I was definitely harsh, but the developer is selling this game at a higher price than iRacing, Climbey, and KartChaser. I understand the need to keep up with bills and make money off of your games, but you also need to match the content handed over at the same price point. Skateboarding is a sport and Hoverskate only shares looks and tricks of its predecessor sport.