The idea of using virtual reality headsets at home for entertainment and exercise is something you'd expect in the future, but it's happening right here, right now in 2017. With over 6.3 million VR headsets shipped in 2016 alone — VR is here to stay.
The Crossover of VR to Exercise
Using VR to play action, first-person shooters, and sports based games are popular among gamers due to the realistic virtual environment that surrounds you. Epically designed images and sounds will engulf you as you interact with games that require your entire body to act as a secondary controller.
Depending on the game being played, VR can activate the entire upper body, core, and lower body, making it a strength training and cardio alternative to going to a commercial gym.
How VR Transforms People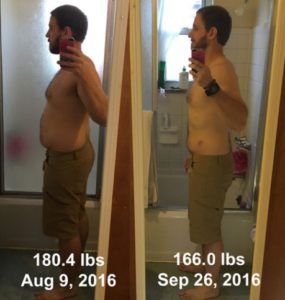 Tim Donahey is the perfect example of a VR user who saw the fitness potential after playing VR games with a heart monitor. Tim found out he burned over 900 calories in an hour during gameplay and that was enough for him to see how far he could push himself. Equipped with this knowledge, he set a 50-day fitness goal where he'd use his HTC Vive with games like The Lab's Longbow, Thrill of the Fight, Holopoint, and Holoball as a way to exercise and lose weight. He reports that he lost over 14 pounds in 50 days!
Using VR HMDs as a home gym is something David Scott, the owner of Cool Beans Studios and a VR developer, experienced after playing VR games like Soundboxing got him to enjoy working out. After playing games for the first two days he found that he had lost 4 pounds of water weight, which is a testament to how sweaty VR games can make you. As he progressed and played hundreds of hours of The Lab Longbow and Soundboxing while using a Fitbit heart monitor David lost over 10 pounds!
Personal Trainers Use VR
Who would have thought trainers would become gamers who turn gamers into exercisers? That's meta! VR Fitness Insider has personal trainers who, from firsthand experience, see the health advantages that VR provides. These personal trainers don't simply pass the information on, they act on their findings and use VR for their clients and themselves.
Below you'll find VRFI trainer recommended games that target the upper body and lower body with strength training, as well as cardio warm ups and cool downs. You'll also want to read this article to protect yourself from injuries caused by improper form while playing VR games.
Warmup/Coordination: Space Pirate Trainer, Audioshield
Power: BOXVR, The Thrill of the Fight
Stamina/Speed: Holopoint, Bitslap
Recover/Cooldown: Fruit Ninja
VR Games Burn Calories
The research organization VR Health Institute of Health and Exercise is on a mission to show the world that there are VR games that are proven to burn calories and fat. Their site references which games have the equivalent calorie burn and physical exertion to other sports and activities so you'll get your best workout regardless of the skill level.
According to the VR Health Institute, playing a game like Knockout League is the physical equivalent to rowing and will burn 8 to 10 calories a minute, while playing Holopoint is equal to the intensity of swimming and will burn 13 to 15 calories a minute. The idea is, as long as you're moving along with the game and sweating you'll reap the benefits of using VR as a fitness machine.
VRFI is always looking for the best VR games for fitness and weight loss for you to play by yourself or with friends. We're here to help you discover upcoming and new game releases, as well as other helpful tips to get the most fat burn out of your workouts.
VR Accessories That Help Accelerate Fitness
On your journey to fitness you'll experience weight loss, muscle gain, and the dreaded plateau. Think of it, every great protagonist has to get over their own hurdles to becoming a stronger, better, and wiser version of themselves. The same goes for you! If your gym routine is getting repetitive and there are no more surprises, keep reading to see how VR can help you get over that slump.
Using a VR headset for 30 minutes in a high-intensity game will leave you drenched in sweat. VRFI recommends kicking it up a notch by using fitness accessories like weighted ankle and hand weights to increase the resistance and difficulty of a VR workout. Adding weights to your strength training will boost calorie and fat burn if you exaggerate and really put some weight into your punches, kicks, jumps, and any other movements that may arise.
Weighted vests aren't recommended for people who are new or just returning to exercise, rather they are helpful for frequent or professional exercisers. Adding ankle or hand weights can be beneficial if you've played a game for a while and want to level up the difficulty. The main idea here is that you add them into your workout incrementally and don't push it all at once. You want to help yourself, not hurt yourself.
Evolving Fitness
VR is a constantly evolving landscape of expanding usefulness. Every month there is a new game or product that will help entertain you as you keep your body tight. The games you play and their level of intensity are up to you and how much your body can handle.
Listen to your body, use good form, drink water, stretch, and keep checking VR Fitness Insider for updates on the best equipment, games, and tips to help you reach your fitness goals.