Lockdown
It's fair to say 2020 has not had the best of starts. As I write this much of the world is on lockdown, with hundreds of millions of people confined to their homes worldwide. We find ourselves in a unique and unprecedented situation. The Covid19 pandemic is something none of us have lived through before, nor hopefully will have to experience again. The threat of contracting this infectious disease is of course scary enough. However, even those not infected can still suffer the potentially ruinous consequences that the desperate but necessary social restrictions put in place to control the spread of the virus will have on both the global economy and on individual jobs. None of us are unaffected. It is a worrying time for all. The closure of gyms, cancellations of all sports and government-enforced bans around the world on entries into green spaces and parks means that people's ability to exercise, improve their health and boost their immune function has been taken away, ironically, precisely when we need to be fit and healthy the most.
A huge number of us are now confined to our homes, forbidden to meet up with family and friends, and not allowed out to our favorite locations. If there was ever a perfect moment for virtual reality to stand up and declare itself a worthy alternative to the real physical world then surely that time is right now!
As a website, VRFI is dedicated to promoting virtual reality's unique potential for improving people's fitness, health, and overall wellbeing. Stuck at home in enforced social isolation I've never been more appreciative of my Oculus Quest and Rift S headsets than right now. They are helping me to stay fit, stay connected and stay sane as I enter my second week of solitary confinement. If you find yourself in a similar situation hopefully this guide will give you some tips and ideas for using VR to stay fit, strong and sane during this time, helping ensure we can all be in our best possible shape to face the challenges that lie ahead.
With that said, let's begin.
Get accountable, sign up to the VRFI 90 Day Challenge
Committing to regular workouts is easier if you're not doing it alone. Fortunately, we can help. There's not much time left to sign up for our 90-day challenge. The deadline to join is April 15th so be quick. We've partnered with YUR, there are numerous prizes to be won each month donated by our sponsors, and one lucky entrant will receive a $500 cash prize from VRFI!
Download YUR to record and track your progress
Even if you miss the deadline to enter the challenge do still download YUR. It's an excellent free fitness tracking tool that records your calories burned and time spent in VR across all your VR games. Available on both PC VR and for the Quest it's a must-have app for those wanting to monitor and record their progress. YUR tracking tools require a simple download so go ahead and get it!
Select the best fitness games
Ok, you're ready to start but not sure what are the best games. Here at VRFI we still think Beat Saber, Thrill of the Fight and BoxVR form the best home workout regimen. BoxVR and Beat Saber especially can be universally recommended, available on all major platforms, PC, Quest, and PSVR. They will both give you well rounded and fun workouts, with enough replayability to keep you entertained for months. The Thrill of the Fight is a little more active (It's a beast of a workout!) and you'll need some space to really get the most out of it, but for the price, it can't be beaten.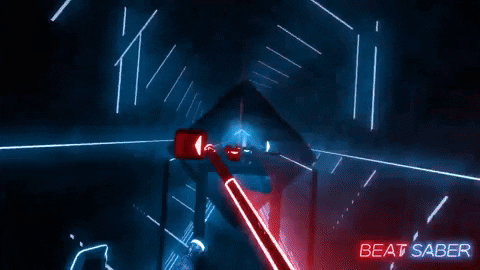 BoxVR has a true workout structure to it and unlike most VR games does not neglect legs so it comes highly recommended by all of us at VRFI, and of course, everybody knows how great Beat Saber is. These are by no means the only fitness games worth getting, however. For a comprehensive roundup of all the best fitness games by genre check out my guide to the best fitness games on Oculus Quest. Note that all of the games mentioned in the article are available for PC VR as well so if you own a Rift, Vive, Index or WMR headset you'll be covered.
Get some social competition
An obvious consequence of enforced social distancing is a lack of people to engage with. It can get a little lonely if you're living and exercising alone so some competitive VR multiplayer action can definitely help. The market for VR is slowly growing and we are starting to see some games build fairly respectable multiplayer communities.
If you have a PC VR headset check out Echo VR on the Oculus store for excellent team vs team action in a zero-gravity environment. Player numbers are always decent and it's a great way to socialize and get some team-based competition in. Downloading the app is free and acts as a gateway to separate team-based games, Arena and Combat. Arena is completely free whilst Combat requires an in-app $9.99 purchase.
Echo Arena is also coming to Quest soon, with an open beta shortly to be announced.
Rec Room is cross-platform, for both PC, Playstion and Quest, and remains completely free. It always has a sizable player base, although it does attract younger gamers. Paintball and Laser Tag are especially fun or you can join a party of four and go on various quests together. The rec room community is large and actively involved in the game's development, with lots of community builds and game worlds to visit. With a near-infinite amount of content, there are hours of fun to be had here and it's definitely worth an install if you're looking to play some games with others or just hang out and chat.
If you like your action a little more serious then Pavlov and Onward are both excellent first-person shooters with decent player bases for PC VR headsets. There is a free downscaled version of Pavlov available for the Oculus Quest via Sidequest.
Others that I like to load up now and again are Eleven Table Tennis and Sports Scramble. Creed is also worth a mention although you might struggle to find matches right away as the player bases for these games are smaller.
Get outside virtually
I don't know about you guys but I am certainly missing the great outdoors right now. Fortunately, VR can transport you to real-world destinations too. A strong recommendation to give you the outside relaxation feeling is Real VR Fishing by Miragesoft. With gorgeous, photorealistic locations and ultra-relaxing gameplay, this is a calming, feel-good way to escape the four walls of your house without breaking any quarantine laws. There's plenty of fish to catch and you can even collect them for viewing in your own aquarium. One great feature of the game is that you can watch videos from within the environments. So kick back, and enjoy a movie or your favorite Youtube podcast whilst fishing. It's the perfect way to while away the time imagining you were somewhere else.
If you're after a more active adventure with great views then Crytek's The Climb should satisfy. Every climb is a test of concentration, focus, and nerve, but it's also surprisingly relaxing and a great bit of escapism as long as you don't mind the heights.
Add VR to your home fitness equipment
If you are fortunate enough to have a stationary bike, elliptical or rowing machine at home then consider purchasing a subscription to either the VZfit or the Holofit.
Virzoom's VZFit now works with any BlueTooth 4.0 cadence or speed sensor so you no longer need to buy their own. Their subscription service gives you access to two products, VZFit Play and VZFit Explorer. Right now I'm all about VZFit Explorer. Three times a week I load it up and ride for 30 minutes anywhere I fancy in the world. It's a great escape from my bedroom and even allows me to cycle from my own house using Google Street View. Premium access to Play and Explorer costs $9.99 a month but a free demo restricted version is available on their website.
Holodia's Holofit is another great option for adding virtual reality to your traditional workout equipment. This works with indoor bikes, as well as ellipticals but it's best enjoyed with a rowing machine. As with the VZFit to connect to a bike you'll need a Bluetooth sensor, whilst to connect to a rower you will need a PM5 (Concept 2) or any rower that has FTMS Bluetooth. I'm currently using this with my Concept 2 rower and am impressed. There is a variety of unique and interesting environments to explore and various modes depending on your training preference. You can get a free trial on Sidequest for the Oculus Quest version and as with Virzoom's VZFit, the full package is available for $9.99 a month.
Use Youtube for free VR rides and rows!
If you bulk at the thought of paying ten dollars every month to a subscription service there is a free hack that actually works pretty well. Youtube has some excellent 360 degrees VR cycle rides and rows on its site and you can simply load one up in your headset and then start cycling or rowing depending on your choice of equipment. It works surprisingly well and might help to liven up your indoor training sessions without costing a penny.
Dynamio VR has some great free video recorded rides on their Youtube channel, a couple of examples of which are below
Another great free resource is the Youtube Channel of FiVR. Channel owner Peter creates computer-animated cycle and rowing rides that you can enjoy in VR. Again some examples below;
These represent nil cost alternatives to a subscription service that still elevate your indoor ride or row to something more than staring at your walls. They might also act as a taster to see if you enjoy using your fitness equipment in VR and if maybe a subscription service could be of benefit to you.
Concluding thoughts
I hope some of these ideas are helpful for you whilst you cope with life indoors, however long this pandemic lasts. If you have any game suggestions or interesting ways you are using VR to overcome the limits imposed by enforced isolation I'd love to hear them, so do share.
On behalf of us all at VRFI I'd like to you wish you all the best of health at this time. Stay safe and keep social distancing and hopefully we will all be able to get outside again in time for summer!