Over the past three years, Echo Arena has evolved from a beta game with a small group of eager Echo units to one of the most popular VR esports on the market. Yesterday the game entered a new season with Echo Arena launching on the Oculus Quest in open beta. Thousands of new players are looking for resources that will help them know where to start as they join players who have days, weeks or even years of experience playing Echo Arena on PC so we've compiled the ultimate resource guide.
About the Game
Ready At Dawn's Echo Arena launched in July 2017 after a group of dedicated beta players spent the previous month being amazed at the full potential of immersive VR. In the game, players try to score goals much like they would in a traditional sport. Echo Arena is like a traditional sport – except for the fact that players are in VR with a very realistic feeling that they're flying through a zero-gravity arena where they can stun opponents, flip upside down, and boost with their teammates to achieve amazing speeds.
A top-notch multiplayer gaming experience in virtual reality that requires players to duck, dodge, throw with accuracy, and use quick reflexes in physical reality, Echo Arena is referred to as the first official VR esports. The combination of physicality and technology that define competitive VR gaming is beautifully achieved in the game.
Maybe you already know all of this and you're ready to jump in the game during the Quest open beta so here's a collection of resources to help you navigate the wonderful world of Echo VR.
General Recommendations
Embrace the Tutorials. The devs have created some excellent training tutorials so pay attention and you'll be better prepared when you enter a multiplayer match.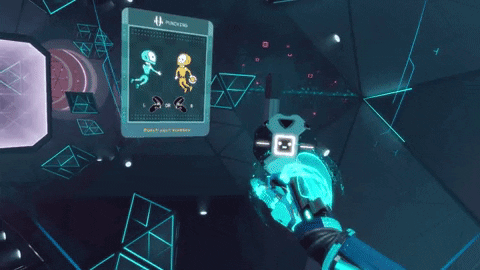 Hang out in the lobby. Echo VR is a social experience as much as anything and you can have hours of fun in the lobby. Make friends, play with the toys, change your chassis in the customization room, and practice various skills with the training tools.
Take advantage of Echo VR resources. In addition to the lobby training areas and the AI bots, Echo has an active mentor group, developers who are involved in the community, various resources on social media, and more. You'll find a list of community resources and social media links further in this resource guide.
Teamwork is key. Players' skill levels vary considerably – from the beginner who can barely figure out how to exit the spawn pod to the striker who can score a goal from 70+ meters – on purpose. Your skills will develop over time, but one thing you can do from the very beginning is to focus on teamwork. Pass the disc, come up with a basic team strategy (like who will be quarterback), encourage your teammates, etc.
Show good sportsmanship. Echo VR has a supportive community without a lot of the toxicity that has been tolerated in traditional gaming environments. Here are some recommendations for good sportsmanship in VR.
Play with the AI. Your first match will be against AI bots, but you can use the terminal in the lobby to queue against the AI bots for additional practice. There's also an option to queue for AI co-op so you'll be put in with AI and any other real-life players who are also queued up for an AI co-op match. The AI is incredibly well developed and you'll discover that they actually "learn" as you play against them so they're increasingly difficult to beat.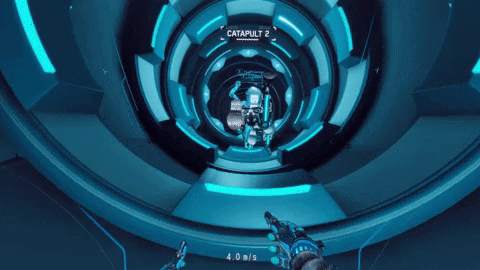 Recommended Skills
When you think of a traditional sport like basketball or baseball, players use the same court or field, but there can be great variation in gameplay based on strategies, teamwork, and individual player skill. The same is true of a great esport. For Echo Arena, here are some of the skills we recommend that you practice as you progress through your early games.
Autogrip. Middle finger is your grip. If you press this, it will automatically grab anything that passes through your hand. This comes in handy if the disc is flying towards you or if you're trying to grab a passing teammate.
Slap / bounce. You can quickly press and release your grip while simultaneously slapping an object. This will cause you to slap it, such as slapping the disc away from the goal or to bounce off it, like pushing back from the wall one of the geometric shapes. You can practice this in the lobby. A good place to do so is near the spawn pods where you can bounce back and forth between the posts.
Throwing. There are several styles of throwing. Practice to see which one works best for you and then work on accuracy in-game, in the lobby practice area, or in a private arena. Main throwing styles include:
Overhand like a ball (preferred in most situations)
Backhand "frisbee" throw (can be useful and fast)
Forehand flick (a quick movement with a flick of the wrist)
Underhand like a bowling ball (typically only used for under the goal shots)
Push (a very slow "throw" that's most often used when the goal is left unattended and you just gently push the disc forward)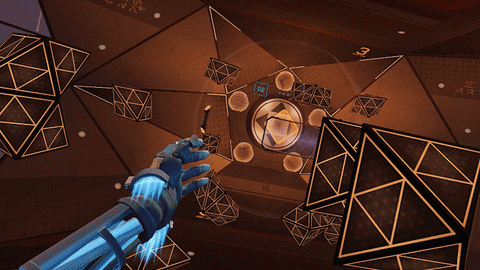 Boosting / Regrabbing. While this is now seen as one of the most essential skills in the game, it's something that the original beta players didn't even figure out they could do for a few weeks when the game launched in 2017. Boosting and regrabbing will give you an advantage, but it's difficult to master so don't let it stress you out.
In order to boost, basically you have to pull through another player as they're moving forward. This will give you increased momentum. If they then regrab you, it increases your speed even more. The team that boosts around the arena will be able to reach the disc more quickly on joust, make it back to defend an unguarded goal, etc. A team that boosts together has a huge advantage.
Stun / Shield. Your trigger finger gives you the ability to punch or "stun" opponents when you hit them in the helmet. Both hands held up by your face gives you a shield so if an enemy tries to punch you, they'll be stunned instead.
Tip:  When you shield, if you look at the graphics inside your helmet, you'll see bars on each side that will turn yellow and then red as your shield depletes.
Echo Community Resources
There are lots of resources available for players of all levels. Check out the following in-game and online options.
Mentors. Echo VR mentors answer questions, teach boot camps, offer individual training, and team up with players for a fun time in public and private matches. Mentors are most easily reached via a ping on Discord. They're to the right in a list with the following tags:
Mentors (EA) – Echo Arena
Mentors (EC) – Echo Combat (not available on the Quest)
How to request a mentor:
Join the Echo Games Discord server.
Post in the #arena_beginners channel that you're looking for someone to help you.
Let them know:

your level (or approximate)
what type of training you want (general, new player, goalie skills, boosting, etc.)
your time zone
Mel bot. This little bot will answer a lot of your questions. You can find him in the list of mentors and then right-click to send him a direct message. You can type questions like "Mel what's VRML?" or "Mel what's PUN?" and he'll answer.
Boot Camp. Boot camps are scheduled training times when veteran players lessons covering tactics, strategies, and game skills. Topics covered include shooting tips, boosting and regrabbing, goalie skills, and more. There are boot camps for geared toward new as well as advanced players. You can find a schedule of boot camps in the community news channel in Discord as well as on the events page for Echo VR on Facebook.
Pick Up Nights. Experienced players join newer players for mixed-level scrims in private matches. This enables players of all levels to play together and practice their skills in a controlled environment with a mentor on hand to answer any questions that might arise.
Social Media
Echo VR has a presence on all social media platforms so choose your favorite one, watch for announcements about upcoming events, read community news, and meet others who enjoy playing the game.
Echo Games Discord. The Echo Games Discord server has nearly doubled in size – from 5,000 to over 9,000 – in the past few months as gamers anticipate the release of Echo Arena on the Oculus Quest. We'd recommend that you familiarize yourself with some of the resource channels to make the best use of the Echo Discord.
#quest_beta – to discuss Echo VR Community testing on Quest
#quest_bugs – to talk about bugs you find in-game. (You can submit bug reports via this form.)
#quest_faq – for basic questions about Echo on the Quest
#arena_beginners – for questions about Echo Arena or if you want to tag a mentor
#echo_arena – for general discussion about Echo Arena
#support_echo_vr – to report bugs and ask support questions about Echo VR
Echo VR Facebook. This is a community-run Facebook page where you can post videos, ask questions, and find out about upcoming events.
Echo Games Facebook. This is the official Echo Games Facebook run by Ready At Dawn.
Echo Games Instagram. Instagram fans can access the Echo Games Instagram for neat pictures, gifs, links to posts on the dev blog, and more.
Echo Games: Official Mission Logs. You can read dev logs and news on the Echo Games Blog.
Echo Community YouTube channel. If you're looking for videos about the game, you should check out this fantastic resource. On the Echo Community YouTube channel, you'll find interviews with players, gameplay, and training videos like this tutorial about movement in the game from Sakura, once a mere player who was later promoted to status of dev god.
Echo Games Reddit. If Reddit is your preferred social media platform, be sure to join the community on the Echo Arena Reddit and you can interact with other players, ask questions, post those memes, share your videos, and have fun learning community trivia!
Competitive Opportunities
There's an active competitive scene in Echo VR with opportunities for Echo Arena players that include fun community cups as well as a pro league.
VR Master League. The Echo Arena VR Master League Season 1 Championship is taking place during May. If you're interested in competitive VR gaming and want to see the future of VR esports, you should watch the world's best players and professional production crew on the VRML Twitch channels during the season 1 championship.
Watch Echo Arena VR Master League on Twitch.
Rookie Crossplay Cup. There are community cups and other competitive events hosted by the Echo community. For all the incoming Quest and Rift crossplay players, there will be a competitive event just for all the newcomers to Echo Arena. Read more about the Rookie Crossplay Cup and then sign up!
Collegiate VR Esports League. Despite the fact that the pandemic has shut down most secondary schools, colleges, and universities, students who have headsets at home still get together for fellowship and game time. The CVRE is still trying to determine how they'll handle the 2020 seasons, but you can reach out to them via their website or CVRE Discord server for more information. Echo Arena is one of their featured games.
Frequently Asked Questions
Can I play with friends?
Yes, but you'll need to friend them on Oculus and it requires a Facebook account to make the connection. (Some players create a fake Facebook account.) Once you start making friends, you can create a party in Echo VR and you'll be able to play with your friends.
Why do some people have yellow/gold nametags in the game?
Ready At Dawn developers and Oculus employees have yellow/gold nametags in-game.
What happens if I encounter a toxic player?
Most people in Echo VR are friendly, but if you encounter a toxic player, try interpersonal skills first. Say hello, be friendly, and focus on the positives. You can also mute or ghost players.
If you encounter someone who is violating the Code of Conduct, you can also report them to Ready At Dawn and Oculus.
To report to the RAD developers, e-mail

[email protected]

.
To report to Oculus, visit https://support.oculus.com/885981024820727/
How much does the game cost?
Echo VR is available as a free download on the Oculus store.
Is Echo Combat coming to the Quest?
This is the most common question we receive on Discord. There are currently no plans to port Echo Combat to the Quest. However, Ready At Dawn developers have a history of responding well to community involvement so perhaps that will be an option in the future as the community continues to grow.
More Resources
If you love the game and just can't get enough, check back with VR Fitness Insider for more news about Echo Arena.