If you're looking for a new VR headset or ready to take your initial plunge into the realm of virtual reality, you have no shortage of options. There are all sorts of virtual reality headsets on the market, each with its own unique merits. There's a bunch of options that you've probably heard about, including some mobile editions that look interesting at a glace. Let's help you get serious. If you're really sure that you want to get into VR and expose yourself to it's best, then you have to sidestep all things mobile. And, you can't afford to be intimidated by the plethora of non mobile choices! This guide will help you understand the unique qualities of the non-mobile VR headsets so you can whittle down the options. Without further adieu, let's take a look at the best of the best to help you pick out the perfect virtual reality headset with your fitness goals in mind.
HTC Vive
The HTC Vive virtual reality headset is one of the most celebrated in the industry. This is the perfect VR hardware for an individual who is looking for an exciting virtual reality experience that allows for an abundance of fun, physical activity and overall stimulation. The Vive's total package contains a VR headset, two base stations that define the virtual reality area's "whole room" and two motion controllers. Strap on the HTC Vive headset and you will be engaging in high-energy fitness virtual reality games and activities of all varieties.
The motion controls are fine tuned, allowing for an accurate tracking of the player's motions at all times. Move around in whatever manner you desire and the HTC Vive will translate your movements to the virtual gaming arena. This is the sole virtual reality technology that tracks movements within a 10 foot play space. VR enthusiasts have raved about the HTC Vive's controllers being superior to those of the PlayStation Move system. This advanced technology comes at a price of $800. However, you can use a variety of fun and physically demanding fitness-oriented software on the HTC Vive. This virtual reality hardware really can replace your gym membership. Cancel that membership, put the proceeds toward  the HTC Vive and you will have plenty more fun while getting into shape in immersive virtual reality environments.
Bottomline: Great for fitness, lots of games to sample, but the priciest of the mix. If you're buying now and want the best, this is it. If you're buying now and want to save some money for your next HMD, keep reading.
Sony PlayStation VR
Sony's PlayStation VR system is acclaimed for its sleek presentation and superior user experience design. Everyone from kids to parents and even seniors finds this VR hardware to be quite easy to use. It costs $399.99, a reasonable price for engaging virtual reality experiences that will get you off your backside and moving every which way. It even has a theater mode that permits the playing of any PlayStation 4 title. Be sure to pick up the PlayStation Camera to ensure the headset works as designed. You will also need a PlayStation Move controller bundle to take advantage of the system's motion controls. These controls might not match the responsiveness of the HTC Vive's yet they will suffice for fitness-oriented virtual reality gaming that has you moving in all directions. Furthermore, the Sony PlayStation VR is half the price of the HTC Vive so a slight reduction in motion control quality will be a minor sacrifice if you have budgetary constraints. Also, the halo affect of the headset itself is really a step ahead of the competition when it comes to moving around and the HMD not jostling around. The flip up viewer is another great element of this one, too.
Bottomline: Not as great for fitness but with some really cool experiences (including Batman!) that aren't really aimed at working out. It's also reasonably priced. If you're buying now and want cool games and a little bit of fitness, this is it. If you're buying now and want the best VR fitness there is, go back to the Vive or read on for the Rift.
Windows 10 VR Headsets
Microsoft has teamed up with several hardware manufacturers to provide multiple Windows-10 compatible virtual reality headsets aside from Oculus Rift and Vive. These VR headsets make use of outward-facing sensors for accurate motion tracking. There is no need to use an external sensor or camera like those required with PlayStation VR, Vive and Oculus Rift. This is excellent news for those who are interested in using Windows 10 VR headsets to get into shape or stay in shape. Microsoft VR engineers have teamed up with computer hardware aficionados across the land to build highly responsive virtual reality technology that gauges players' physical movements with remarkable precision. Microsoft representatives have stated the headsets will retail at $299, making them quite affordable compared to other options. At this point in time, confirmed partners are Dell, Lenovo, HP, Asus and Acer. Look for these headsets to hit stores by the end of 2017.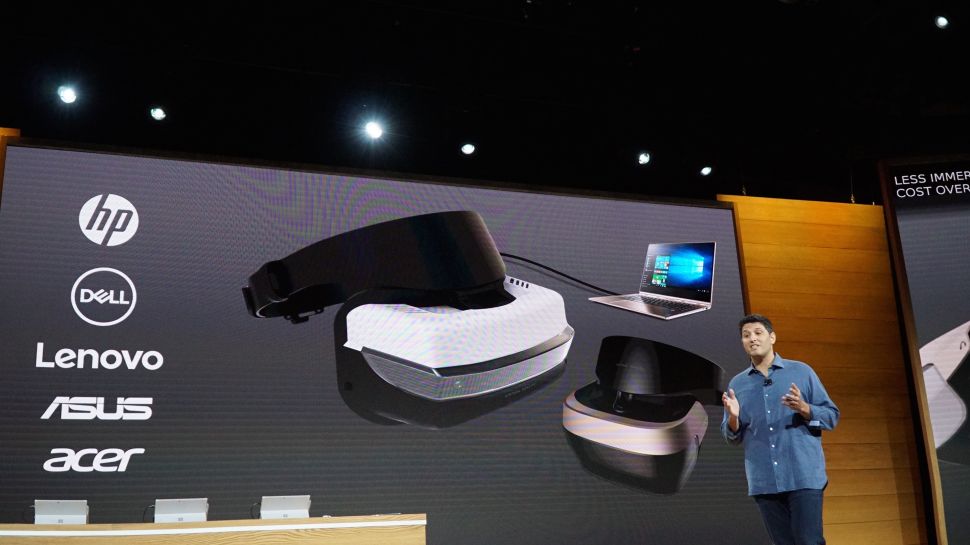 Bottomline: We're still not sure. We've seen some demos and heard a lot of promising things, but until we can really get our hands on them and test them out, this is only an option for people still waiting to get into the game.
Oculus Rift
When the words "virtual reality" are spoken, most people think of the Oculus Rift. Though the Vive and PlayStation VR have gained ground on Oculus, it still provides quite the immersive and enjoyable virtual reality experience. This $499.99 virtual reality system offers 1,080 by 1,200 resolution per eye, a 90 Hz refresh rate, a 110 degree field of view, motion sensors and external visual positioning sensors. These specs are comparable to those of the HTC Vive yet the Oculus Rift is $300 cheaper. However, the Oculus Rift does not provide the full-room virtual reality experience that fitness-minded VR users enjoy with the HTC Vive. Nevertheless, the Rift, and it's importance to the industry cannot be diminished. You'll have almost as many great options to play on the Rift as the Vive and, if you pick smart with the help of the reviews on this site, you're sure to burn fat with every session.
Bottomline: Great for fitness, lots of games to sample (though less than the Vive) and cheaper than the Vive. Is it as good as the Vive? We think it's lost it's place at the top of the business, but if you're looking for a cheaper solution that you can still use to workout in VR, this is definitely it.