With so many gaming experiences on Steam and the Oculus store, it's easy to lose yourself in all the options of VR fitness these days. Not to be outdone, VirZOOM, maker of VirZOOM Arcade virtual reality exercise games and the VirZOOM VR platform, just announced a strategic partnership with AMD. AMD will provide graphics cards to power VirZOOM experiences in commercial venues including gyms and arcades, taking your VR fitness efforts to the next level in the gym and at home.
Daryl Sartain, Director & Worldwide Head of Virtual Reality & Displays, AMD Radeon Technologies Group, was very happy to announce the partnership with the VR fitness company, stating: "We're excited about location based VR and the opportunities it provides to reach consumers and introduce them to a wide range of VR experiences."
Those experiences truly do have a wide range that are specific to fitness. We reported on VirZOOM's partnership with gym chains and hosting vSports tournaments in the past. At present, they are installing their unique VR exercise game platform on Life Fitness SE3 Discover Series upright and recumbent bikes. AMD comes in with their small form factor PC's that are working with HTC Vive VR headsets to create a high-end commercial VirZOOM experience.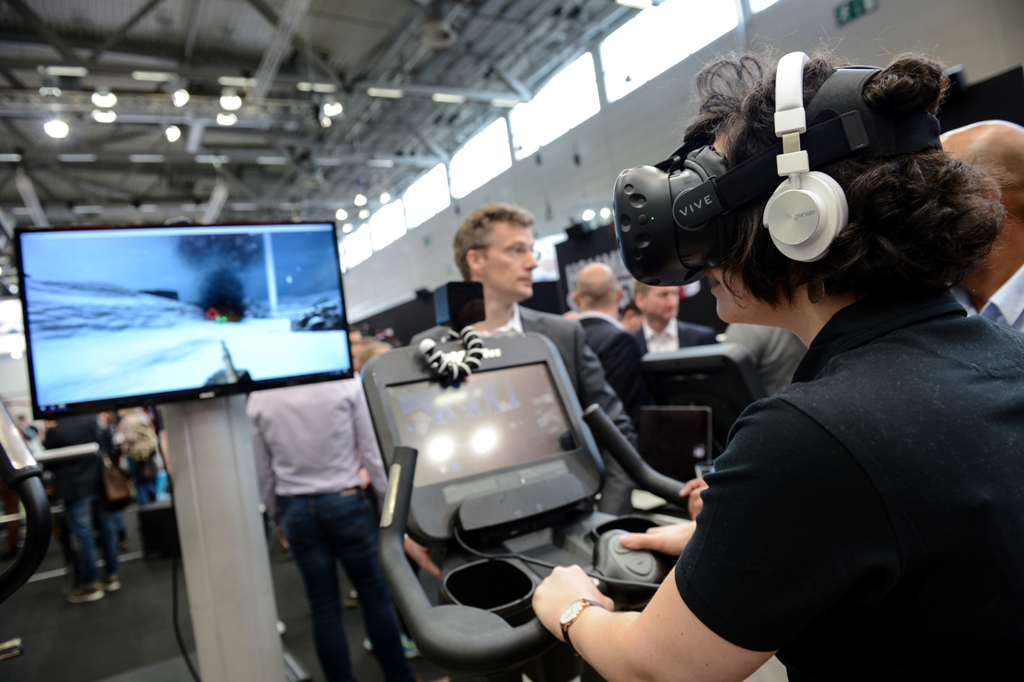 When asked about the partnership with VirZOOM, Amad Amin, Life Fitness product director of digital experience, said: "Virtual reality brings new excitement to traditional fitness equipment. One of our goals is to continuously enhance the immersive exercise experience on our premium products. Combining the interactive and engaging VR experience with the performance and durability of our Life Fitness products is an example of two innovative technologies coming together. Exercisers forget that they are working out because they are so in tune with what's going on in the game, it's been pretty fun to see. We want to continue finding new ways to keep people engaged and moving, and partnering with VirZOOM is a testament to that."
VirZOOM, AMD and Life Fitness are banking on that engagement on VirZOOM's Arcade, which is an ever-expanding collection of vSport style experiences specifically designed to push people's fitness levels on their current bike design. Pedaling and leaning propel you through race tracks, battle grounds, soaring skies, and country sides with the VirZOOM Bike Controller (consumer version), available via leading retailers for $399.95. You can download VirZOOM Arcade for free on the PlayStation Network and Steam for PlayStation VR, Oculus Rift and HTC Vive use. At present, the company boasts their experiences have helped burn 1,638,454 calories from all it's users to date.
"Partners like AMD, HTC and Life Fitness have been instrumental in making our vision of VR exercise games in a gym setting a commercial reality.  The AMD and Radeon teams have gone above and beyond to create a powerful PC experience for high-end virtual reality suitable for a commercial gym environment," said VirZOOM CEO Eric Janszen. When you see this news in the same context of VirZOOM's strategic partnership with FitBit, it's easy to see VR fitness becoming more mainstream by the day.