Esports has been taken to a new level during the inaugural season of the VR Challenger League. Presented by Intel, Oculus and ESL, the world's first VR esports league signifies a drastic change in the world of competitive multiplayer video games.
Traditionally, esports have been represented by teams or individuals sitting in front of a console trying to defeat their opponents using strategy, stealth and careful execution in games such as League of Legends or Dota. Game action is typically accomplished through incredibly quick maneuvering of a keyboard and mouse or sometimes a controller.
In VR esports, competitors use controllers, but now they also use their bodies to jump, duck, dodge, twist and turn their way into an era of esports that has suddenly added a physical component in dramatic fashion.
The games featured in the VR Challenger League's first season were Insomniac's "The Unspoken" and Ready At Dawn's "Echo Arena." These were excellent choices as both games presented an exciting experience to watch – whether you were watching the action in game or the physical world players as they battled for a victory.
Season 1 of VRCL was comprised of weekly ESL tournaments where competitors from around the world racked up points that would earn them the right to compete at one of four regional qualifiers. The regional qualifiers were held offline – one for each game in Europe and North America, resulting in four guaranteed spots for the Grand Finals.
Echo Arena regional qualifiers for North American teams were held at Oculus Connect 4, where team ec.LiP.se came away with a guaranteed spot at Grand Finals in Katowice. In the European qualifiers, team Jacks earned their spot at ESL One Hamburg 2017.
North American regional qualifiers for The Unspoken were held at IEM Oakland, where Reukifellth took the victory. Yawning Soldier earned his spot at Grand Finals during European qualifiers at Dreamhack Winter in Jönköping.
While winners of the regional qualifiers secured a spot at the Grand Finals, other players and teams had to continue weekly battles to earn a spot based on point standings. Finally, those who had accumulated enough points to secure one of the three remaining slots from their region were invited to Katowice, Poland for the final competitions of the 2017-2018 season.
A New Era Begins
Although VR esports takes professional gaming to a new level, it has the advantage of coming into an already well-established gaming culture.
During the 1970s and 1980s, competitive gaming was established as a mainstream hobby and society began to take notice. Players and tournaments were featured on magazines and television. Increasing access to the internet brought even more interest to gaming in the 1990s and it continued to grow. By the mid-to late 2000s, esports tournaments went global and many successful tournaments, such as the Intel Extreme Masters, were established during that period. Over the past decade, the emergence of streaming services such as Twitch have further increased the popularity of competitive gaming to the point that companies now actively invest in the growth of esports. There is even active discussion of bringing esports to the Summer Olympics in 2020 or 2024.
Not only have esports become a permanent part of our culture, they generate a great deal of revenue. Experts, such as SuperData Research, had previously predicted that revenues would reach $1.4 billion by 2019. Due to several factors, including an ever-growing viewership, the industry has grown much more quickly than expected and esports revenues actually exceeded $1.5 billion in 2017.
Compare this to revenues of the NCAA (National Collegiate Athletic Association), who recently announced that they had surpassed $1.1 billion in revenues for the first time in 2017. It's understandable that many colleges and universities have begun to form varsity esports teams and recruit players by offering them scholarships.
Additionally, although traditional esports are intense, with mentally and physically exhausting sessions that can last for hours, the first season of VRCL also brings us a new kind of esport athlete. This new esport competitor is experiencing physical demands beyond what we've seen in the past as they combine electronics and physicality in magnificent ways.
The Unspoken
In the fall of 2017, Reukifellth and Yawning Soldier had already secured their spots at the NA and EU VRCL regional championships. They were joined at Grand Finals on Saturday, March 3, 2018 by the other top players from their region.
Unfortunately, both regional champions were bumped down to the lower bracket relatively quickly in the double elimination style tournament. Ultimately Yawning Soldier defeated Reukifellth in the lower bracket and then was himself eliminated by Getsu.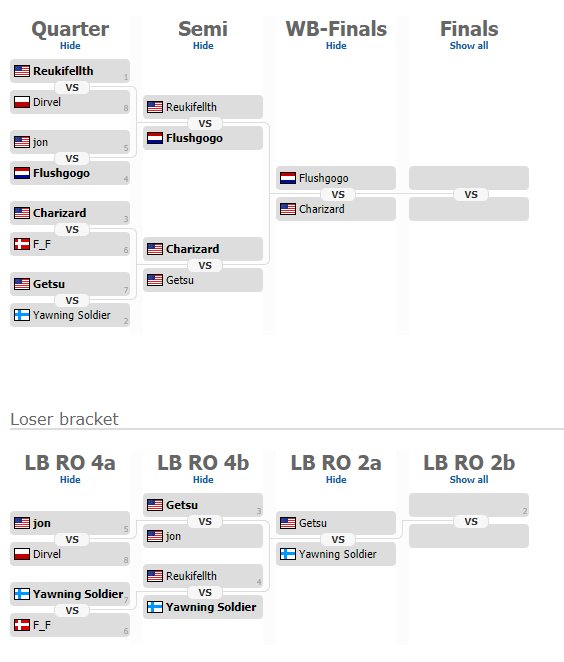 With his win against Yawning Soldier, Getsu had to go up against Charizard. After an exhausting afternoon playing one high level competitor after another, ultimately Charizard prevailed against Getsu. Charizard moved back up to the upper bracket to compete against Flushgogo for the trophy while Getsu walks away with €2000 for third place.
Getsu tries desperately to hold on but ultimately falls to Charizard! Congratulations to both players as Charizard advances to the grand finals and Getsu earns himself €2000 in third place. pic.twitter.com/XMoh4rDXVH

— VR Challenger League (@VRChallenger) March 3, 2018
In order to claim the title of The Unspoken Grand Champion for the inaugural season of VR Challenger League, because he was bumped to the lower bracket, Charizard would have to defeat Flushgogo in two best-of-three sets.
And that's exactly what he did! After a physically exhausting day casting spells, summoning beasts and throwing spears, Charizard actually came back into the winner's bracket and proved that he was indeed a champion.
Echo Arena
In Echo Arena, players compete on 3-man teams in a zero-gravity virtual arena where they glide, punch, and launch their way around obstacles. Ultimately, they are trying to score in the opponent's goal, but this is easier said than done. Players exhibit a great degree of physical athleticism during the game since quick movements are extremely beneficial to help them avoid being stunned, grab teammates for a boost or quickly snatch the disc from an opponent.
After regional qualifiers, team ec.LiP.se was conspicuously absent from most of the weekly North American competitions. Jacks, however, continued to dominate weekly tournaments in Europe. Ultimately, these two regional qualifiers were joined by top point holders at Intel Extreme Masters in Katowice, Poland for the Grand Finals on Sunday, March 4, 2018.
North American teams who qualified based on points were Kangorillaz, Phangasms, and Lamplighters. European teams who qualified were TeamGravity, Ding! and Triversity. While TeamGravity and Ding! were bumped to the lower bracket after the first set of matches, Kangorillaz, Jacks and ec.LiP.se held a spot in the upper bracket for another round. Phangasms remained in the upper bracket after the set as a result of a forfeit from Triversity, who declined the invitation to attend Grand Finals.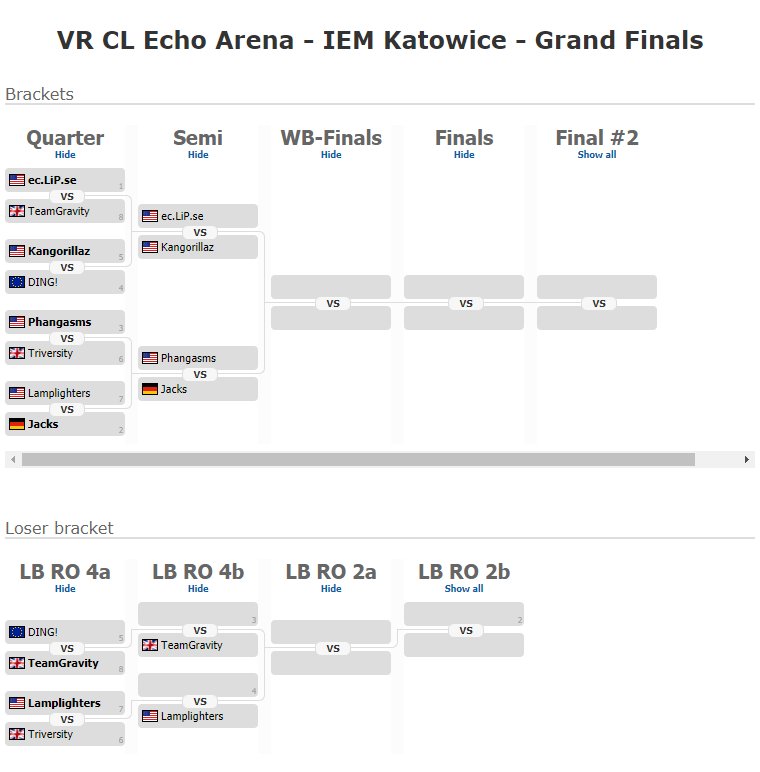 In the lower bracket, Ding! was defeated early and exited the tournament through elimination. Joining the lower bracket after a win by Jacks was Phangasms. Considering how well Phangasms had done in the weekly cups (earning the most points overall), many viewers expected them to make a comeback in the lower bracket. After they beat TeamGravity in the second round in best-of-three, however, it was particularly surprising when they were eliminated from the tournament after TeamGravity crushed them in the third round.
Kangorillaz had been bumped into the lower bracket by ec.LiP.se so they were to face TeamGravity next. The European team couldn't pummel Kangorillaz in the same fashion, however, so Kangorillaz came away with the win, which now put them in the position to win cash. It was just a question of how much.
Unfortunately for Kangorillaz, they were held to third place by Jacks, who was able to secure the win and qualify for the finals against ec.LiP.se. In the double elimination tournament, Jacks, who had been bumped to the lower bracket by ec.LiP.se earlier, would now have to win two back-to-back best-of-three sets.
The final matches of Season 1 of the VR Challenger League couldn't have been more exciting. Twitch chat was going crazy as ec.LiP.se and Jacks went back and forth with the lead. Each match was full of exhilarating moments as Jacks fought hard and proved that they had earned their spot not only as regional champions and top point holder in the EU, but they had earned the right to compete for the title of Echo Arena VR Challenger League Season 1 Grand Champions.
During the second round of the first best-of-three set, it appeared that ec.LiP.se might cinch the win, but Jacks came back to score a goal with just ten seconds left. It was a sensational moment since ec.LiP.se could have taken the title, but Jacks' goal – and subsequent win – forced another round. In another intense match, Jacks won again 6-5, which forced a bracket reset and the teams started over with another best-of-three.
Round one of the reset bracket went into overtime, but ec.LiP.se came out strong and scored a 2-pointer 29 seconds into OT, giving them the first win of the second best-of-three set. Round two proved more challenging for ec.LiP.se as Jacks came out strong and before they knew it, Jacks had scored nine points. Lemming finally had enough and managed to score a 2-pointer, but it was too little too late as Jacks took the win 9-2.
With their win, Jacks carried VRCL's first season as far as it could go. They proved themselves repeatedly and came back into the winner's bracket with a vengeance – never losing sight of their objective.
In the final game, ec.LiP.se came out to make some quick points, then they played a bit of keep-away as they tried to run down the clock while they had the lead. With only 37 seconds left, ec.LiP.se's stats showed 82% possession compared to Jacks' 18%. As VRCL caster PooNanners pointed out, "right now they're making a big case for adding a shot clock to the game."
https://t.co/KsofIcBcfQ is now looking to keep possession of the disc as they run down the clock before scoring once again – Jacks have exactly 37 seconds to come back from a 6 point deficit! pic.twitter.com/K7C92RmEPx

— VR Challenger League (@VRChallenger) March 4, 2018
Ultimately, Jacks was not able to overcome the disparity in possession time. It was a hard-fought battle by both teams, but after a day full of adrenaline-charged matches and physical athleticism never before seen in esports, ec.LiP.se earned the title of VR Challenger League Season 1 Grand Finals Champions!
https://t.co/KsofIcBcfQ are your season 1 @echogames @VRChallenger League GRAND CHAMPIONS! Congratulations to @LemmingVR, @Palidore and @iShiny! pic.twitter.com/QxIZ4RWh9L

— VR Challenger League (@VRChallenger) March 4, 2018
What's Next
Essentially, VR esports entered this world as a "trust fund baby," benefiting from the people and events that worked to establish a billion dollar industry before virtual reality even existed. For the very first season of the VR Challenger League, competitors already shared a prize pool of $200,000. With that said, it's already obvious even from its infancy that VR esports will be an independent, self-sufficient child.
After all, while there are still professional gamers, spectators, computers and a lot of money involved, VR esports is setting new standards and starting a journey that will be its own.
Follow VR Fitness Insider for future news about the VR Challenger League. You can also find updates and information on the VR Challenger League website, Twitch, Twitter and Facebook. Check out the ESL gaming website for upcoming competitions or to sign up.