FitXR released recently for the Oculus Quest, as a free, (and mandatory) replacement for the popular boxercise workout title BoxVR. BoxVR has long been one of the major VR fitness titles, with its structured classes offering carefully choreographed and full-body workouts, comprised of punching, lunging, and squatting.
Compared to BoxVR, FitXR tries to convey more of a live group workout feel than its predecessor, as well mixing up the gameplay, and making it more physically challenging than before with the addition of a new power streak scoring system.
It's definitely an interesting and refreshing makeover for BoxVR, but inevitably when a game changes significantly there will be some murmurs of discontent from previously happy users of the old version. I reached out to CEO Sam Cole to talk about FitXR, allow him to address some of the early user issues, and try and tease out some of the future plans that the developers have for FitXR.
Interview
VRFI: Hi Sam, thanks for agreeing to talk with us today. First of all, can you tell us a little about FitXR as a company, where you're based, who you are and why you decided to get into virtual reality fitness?
FITXR: Hi Kevin, no problem at all, great to talk to you. FitXR is the leading Virtual Reality fitness company. We're based in London, with instructors in New York and fans globally. VR technology and its potential was something both Sameer (Baroova, Co-Founder of FitXR) and I had been interested in for a long time, and we realized that the technology had the capacity to completely reshape the fitness industry. The immersiveness and enjoyment that comes from working out in VR are unlike anything else.
At the core, we're a fitness company – and Sameer and I were looking at developing a fitness product which above all else was fun. We realized that traditional fitness methods simply weren't fun, and that fun exercise routines are the ones we stick with. This was the real inspiration behind developing our first product – we were really excited about how we could use VR technology to realize our vision for the future of fitness.
VRFI: You are obviously most well known for BoxVR, which has been a great success across all virtual reality platforms. It's probably the most popular purely fitness-focused app for VR and yet you've taken the bold decision recently to replace it with FitXR! What prompted you to replace BoxVR on Quest with FitXR rather than say launch FitXR as a separate new title?
FITXR: I think the first thing to mention is that BoxVR itself grew and changed a lot from when we first launched as an early access product on Steam in 2017. One of the things that are so core to us at FitXR is that we want to be the most accessible form of fitness – not only can you get an effective workout from home or when traveling, not restricted to the confines of a traditional gym, but our workouts are suited to people of all fitness levels. For some people, we complement their weekly fitness routine with a high-intensity cardio workout. For others, we are the only form of fitness they have been able to stick to because it is so fun and engaging.
Having this as one of our core aims meant we were constantly listening and implementing changes suggested by our community so that we could continue to support and engage as wide a pool of users as possible.
Launching FitXR is really two things – our biggest update for users to date and a rebrand for the platform. We wanted to take our loyal users on this journey with us as we change and grow – FitXR is the future, a one-stop-shop virtual studio for people, with further exciting additions still to come.
VRFI: What do you consider to be the major differences and improvements that FitXR offers over BoxVR?
FITXR: The primary difference between FitXR and BoxVR, and the thing as a team we are most excited about, is the potential and future of FitXR. We've fully rewritten the code in order to have a stronger foundation to build on, and we have so many exciting things planned that are still to come.
We've been really pleased to introduce the enhanced multiplayer capabilities – bringing the data of six other players into each class, which together with the leaderboard system, enables a greater social and competitive element to each workout. This is something we'll be developing and growing further, capturing the energy of live fitness classes from the comfort of your home.
VRFI: Inevitably with such a big change there have been some complaints amongst parts of the community about features present in BoxVR that are currently not present in FitXR. There are also some big changes to how the game scores and rewards power punches and hit streaks. Are you able to comment on any of the specific areas of concern for previous users of BoxVR on Quest?
FITXR: Of course – at FitXR we're always listening to feedback from our community and looking to improve our platform so that it fits the needs of our users. We wouldn't be here without the support and input from our users, and you can see this in many of the changes we have implemented to date. We love how passionate and engaged our community is.
Lack of previous environments
As we've created FitXR from scratch, our focus at launch was to introduce one environment that we wanted to perfect. This new environment has seen a positive reaction, with users appreciating its clean and professional feel. However we understand that the variety of environments available in BoxVR is something some users are missing, and we're continually looking at this and reviewing as a team.
Lack of offline play
You only need to be connected to the internet when you complete a workout for the first time and after this, the workout will download automatically and you'll be able to play this offline. We've done this so we can ensure the workouts are downloaded properly and don't cause any issues in the future.
Lack of PvP multiplayer with a friend
Currently, you're able to compete against six other players who have previously completed that same workout. It's important to note that these aren't 'bots', but real people who have previously completed the workout to their full potential, which you can compete against. Developing our multiplayer capabilities further is something we're looking at as a team as we continue to develop FitXR.
Absence of custom playlists
One of the reasons BoxVR was so successful and unique in the virtual reality fitness space, and FitXR continues this, is that each workout is developed and designed by professional fitness instructors. As I mentioned before, at the core, we are a fitness company, and it was vital for us to develop workouts that were effective in helping people to achieve their fitness goals.
Because of this, we needed our music to be carefully choreographed to each class so that it achieves its ultimate function of supporting the immersiveness of the workout and making it fun and engaging for users. On top of this, we place real importance on having an eclectic range of music to suit all users, from hard rock to electronic. Again, this means that the music needs to be carefully choreographed to the professional workout to ensure a high quality of the class.
The difficulty of scoring hit streaks with the new power system
We introduced a new scoring system to encourage an even more effective workout than before. Players are still rewarded every time they accurately hit a cue as their streaks here are converted into FitXR points. These points change where you are on the leaderboard and allow you to level up throughout the workout.
The streaks that are calculated individually are now called 'explosive streaks' and to get these players will need to get multiple explosive punches in a row. To get an explosive punch, jabs, and crosses will need to be accurately hit at 3.3 m/s and hooks and uppercuts at 5.1 m/s.
We are continually looking at the data on this to ensure the system is well-balanced and effective for all of our users.
VRFI: What do you plan for FitXR in the future, will it be ported to PC VR and Playstation to replace BoxVR there, and do you have a timeline for that?
FITXR: We're looking at bringing FitXR to other platforms in the near future and will make sure to keep you and our community updated with our plans for this.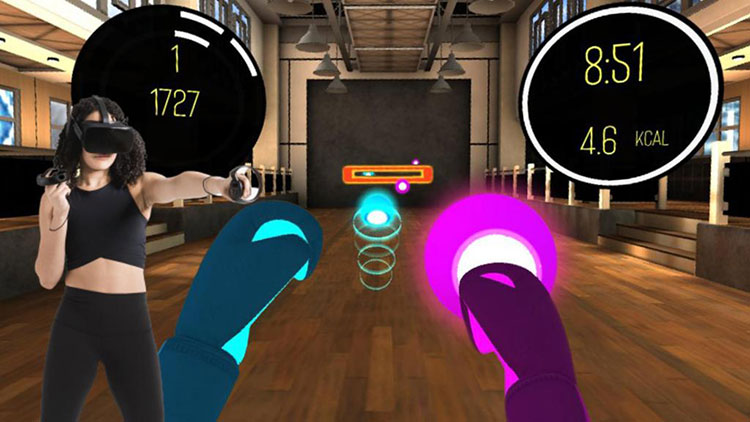 VRFI: Moving forward can you talk about your plans for the future of the FitXR app. The name change hints that maybe pure boxing is no longer the sole focus, might we see new game modes and content in the future?
FITXR: At launch, we really wanted to build on the success of BoxVR and our expertise here, and launch with boxing-inspired, total-body workouts. This enabled us to both take existing BoxVR users on the journey with us and smoothly introduce a new audience to the FitXR virtual studio. Different styles of workout will launch later this year.
VRFI:        I have seen user rumors online that you might be planning to offer daily new workouts and offer a subscription-based service that features more content and trainer-led workouts, in a similar fashion to Supernatural. Is this something you're planning to introduce or are you sticking to the DLC model for extra content?
FITXR: We're keeping an open mind when it comes to our pricing model, but our focus, for now, is on our current model and delivering the best service for our user base to meet their fitness goals. Our focus is on our new product developments over the next 12 months.
VRFI: Finally, I know you recently secured a sizable $7.5 million investment into the FitXR company. This suggests some exciting plans for the future. Do you have any details you can share with us about upcoming projects and other VR related projects that might be in development?
FITXR: The exciting thing about VR is that the limits really are endless. We're still as excited about the technology now as when we first established FitXR 4 years ago. We truly believe VR is the future of fitness, and our vision is one whereby people are purchasing a headset as a piece of fitness equipment. We're also really excited about the potential of mixed reality, and believe it can transform the whole fitness space, from at-home to the gym.
VRFI: Sam, thanks for your time in talking with us today!
Summarising Thoughts And my Speculations
It was great to have Sam address directly some of the issues that BoxVR veterans raised concerning the changes adopted for FitXR. Some problems have already been fixed. Offline play is possible once you've downloaded a workout for the first time. This is great news for those who train on the move, or in locations where there is no internet access.
The scoring system seems to be gaining acceptance within the wider community now, as it really does add to the difficulty of the workouts, and there is no doubt it's a greater physical challenge than BoxVR as a result. I'm also heartened to hear that new environments are coming.
Trying to discern FitXR's future plans is trickier as they do like to keep their cards close to their chest, but Sam did drop a couple of hints that have got me intrigued.
Firstly, he confirmed additional styles of workout other than just boxing will be appearing and hinted that it might be this year. It is worth noting that FitXR not only drops the 'BOX' from its title but it is the first iteration of BoxVR in which your avatar is not wearing boxing gloves, so maybe some Beat Saber style action or weapon-wielding might follow, which will be great for game variety.
Sam did seem quite firm that they feel their decision to choreograph every workout rather than allow custom playlists is the right one, and that would especially make sense if they are planning to introduce new workout modes. A new fitness released this year, Supernatural VR has created some fantastic choreographed workouts handcrafted by personal trainers, albeit for a fairly hefty monthly subscription and it seems the FitXR team wants to maintain that same quality bar for their own workouts, so although I can understand some user's frustrations I think this could be good for ensuring consistent quality, and structured training, especially as they introduce new modes.
Finally, although I couldn't tease any concrete details out of Sam regarding the large financial investment into the company recently he did say that they are very interested in the potential for mixed reality. With Mark Zuckerburg confirming that AR glasses are currently in the development phase, it's exciting to speculate that mixed reality and augmented reality might become the next big thing in VR and of course VR fitness over the next few years, and I'm intrigued to think what ideas FitXR might have there…
Of course, this is all my speculation, for now, the one thing that is certain is that FitXR is going to continue to be a major force in the VR fitness industry, and hopefully the wider fitness industry in the years to come.
If you want to learn more about this game then check out my full FitXR review.