2019 has been a great year for virtual reality fitness titles and there are more ways than ever before for players to get in shape and have fun while doing so. 2020 looks to be just as exciting as many great games and accessories will be released. Before we welcome in the new year, VR Fitness Insider wanted to celebrate the current crop of headsets titles and apps that are reinventing how we workout. While only one title could win the title of the Best VR Fitness Game of the Year, we want to thank all the great studios and businesses that help gamers focus on their health and wellbeing.
Here are VR Fitness Insider's award winners and finalists for our VR Fitness Awards 2019!
Best VR Fitness Game of the Year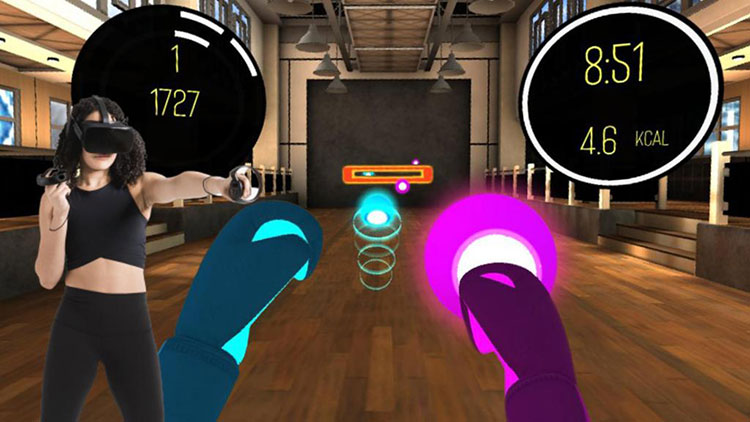 BoxVR
We polled the VR Fitness community and with over 1000 + votes, hands down, you voted BoxVR the Best VR Fitness Game of the Year!
2019 has been a huge year for BoxVR, and the cardio boxing title continues to be a hit with gamers looking to get in shape and drop some pounds. It found a wider audience by launching on both Oculus Quest and PlayStation VR (where it instantly became one of the best PSVR fitness games), received a huge update earlier this month that added in 12 new workouts and 140 minutes of new music to play to, and has been regularly supported by developer FitXR. With its fantastic updates and enjoyable gameplay, it is the gold standard for fitness VR gaming. Due to this, it isn't a surprise that BoxVR managed to win our polling of over a thousand people in the virtual reality fitness community by a wide margin. For an unprecedented second time, BoxVR takes home the distinction of being the Best VR Fitness Game of the Year!
Finalists
Beat Saber
PowerBeats VR
VR Zoom VZfit
The Thrill of the Fight
Best New VR Fitness Game of the Year
Pistol Whip
As mentioned above, 2019 has been filled with excellent new VR fitness games. However, Pistol Whip managed to stand out of the crowd with its intense action that allows players to live out their greatest "John Wick" fantasies. Players truly get to feel like a badass while they play through the game's handcrafted action sequences and burn calories in this first-person shooter. What makes the shooter such a great fitness title is in how it encourages players to actively dodge projectiles. Players will be moving in all sorts of directions and even dropping straight to the floor in order to land hits while not getting shot at. Congratulations to the team at Cloudhead Games on creating the Best New VR Fitness Game of the Year!
Finalists
Audio Trip
OhShape
PowerBeats VR
Sound Beater: Quite my Tempo
Best Boxing VR Fitness Game of the Year
The Thrill of the Fight
The Thrill of the Fight reminded players how excellent of a boxing title it is when it released earlier this year for Oculus Quest. It may lack some of the glitz and glamor of Creed: Rise to Glory, and the goofiness of Knockout League, but it makes up for it by being a fantastic workout. Due to its great fundamentals and delivering the most realistic boxing experience offered in virtual reality, Ian Fitz's title has proven staying power. Congratulations to Fitz on winning the Best Boxing VR Fitness Game of the Year!
Finalists
Creed: Rise to Glory
Knockout League
Virtual Fighting Championship
Boxing Apocalypse
Best Dance VR Fitness Game of the Year
Audio Trip
A good dancing game lives or dies by its soundtrack and thankfully Audio Trip has a great one despite still being in Early Access. Not only does the game provide a great arm and leg workout as players avoid barriers and hit targets by performing dance moves, but it has some excellent songs to enjoy as well. Major artists like Lady Gaga, deadmau5, and Skrillex provide songs to the soundtrack that compliments the game's neon aesthetic, and there are three difficulty levels to master each song in. Because it is the perfect combination of dancing and fitness, Audio Trip wins the award for our Best Dance VR Fitness Game of the Year.
Finalists
Dance Central
Dance Collider
Synth Riders
Wave Circles
Best Fighting VR Fitness Game of the Year
Blade and Sorcery
While one might not traditionally think of Blade and Sorcery as a fitness game, it can easily be turned into a great workout if you know what you are doing. By throwing objects at enemies, squatting down to hit them low, and leaping into the air to surprise them, players can experience a great full-body workout. The gory title is a lot of fun, and since it requires lots of movement while you are swinging away at foes it will help you burn plenty of calories while you progress through it. Congratulations to developer WarpFrog on developing the Best Fighting VR Fitness Game of the Year!
Finalists
Hell Split Arena
Ninja Legends
Gorn
Swords of Gargantua
Until You Fall
Best Sports SIM VR Fitness Game of the Year
Racket Nx
Racket Nx manages to take racquetball to the next level as it blends the real-life sport with Breakout-style gameplay. Players attempt to destroy a number of different targets in waves, and it winds up being a very atmospheric experience due to its immersive graphics and a great soundtrack. With some fun power-ups, it provides an experience that could only be done in virtual reality. It also features some of the best multiplayer in virtual reality, as online matches can get very intense as they compete for a higher spot in the rankings. Featuring a great blend of skill and strategy, developer One Hamsa's title wins our Best Sports SIM VR Fitness Game of the Year.
Finalists
Eleven Table Tennis
2MD VR Football
First Person Tennis VR
Racket Fury
Best Action VR Fitness Game of the Year
Pistol Whip
Impressively, Pistol Whip picks up its second win in our VR Fitness Awards 2019. While the competition was once again staunch, Cloudhead Games' shooter managed to stand out amongst the rest of the field. Thanks to its impressive gunplay, their first-person shooter feels like players are the star of an action movie. No other game allows players to live out their Hollywood blockbuster dreams quite like this, and the fact that it winds up being a fantastic workout on top of that is an added bonus. It also has a ton of replayability thanks to the game's online leaderboards that allow players to compete against friends and strangers. With its fantastic rhythm gameplay, Pistol Whips earns the spot of being the Best Action VR Fitness Game of the Year.
Finalists
Sairento VR
Ninja Legends
Path of the Warrior
Hell Split Arena
Best Competitive VR Fitness Game of the Year
Echo VR
Impressively defending its crown, Echo VR is still a blast to play in 2019. The Echo Arena aspect is a free VR Esport title that features plenty of action and strategy as two teams of three players battle it out within an arena and try to throw a disc into the opponent's goal. It has been so successful that it has created an esports scene around it, one of the few ones for a VR-only title. On top of that, Echo VR also features paid DLC in the form of Echo Combat, which has players taking on the role of a futuristic robot in a team of four that compete to see if they can achieve goals before the opposing team can. The multiplayer title is a blast and it is also a great way to lose weight as Sonya Haskins managed to lose 45 pounds while playing it with friends online. The momentum for the title will continue in 2020 as it is getting ready to release on Oculus Quest. Congratulations to developer Ready At Dawn as Echo VR wins Best Competitive VR Fitness Game of the Year for the second straight year.
Finalists
Onward
Pavlov
Skyfront
Sparc
Best Arm Workout VR Fitness Game of the Year
Beat Saber
Another repeat winner, Beat Saber continues to be the best virtual reality arm workout on the market. The title has a huge 2019 as it became a pack-in title for PlayStation VR, got released on Oculus Quest, and expanded its music library with songs by rock bands Green Day, Panic At The Disco, and Imagine Dragons. The katana-wielding title is still a blast to play, as its core gameplay of slicing beats will never get old, and its high replay value has contributed to it being the Best Arm Workout VR Fitness Game of the Year for a second straight year.
Finalists
Audica VR
PowerBeats VR
Song Beater: Quite My Tempo
Synth Rider
Best Leg Workout VR Fitness Game of the Year
VZfit
VZfit is an incredible accessory and app for anyone with a stationary bike and an Oculus Go or Quest. It is a combination of a sensor and controller that attaches to your own stationary bike that then works with their own VR apps. The VZfit Explorer app allows players to ride their bike anywhere in the world from the comfort of their own exercise room, and their VZfit Play app allows users to play a collection of 10 different games. It is also worth noting that both apps are tied to a subscription service that runs $9.95 a month or $99.95 yearly, although free versions are available that alternate between one explorer ride and game in their respective apps. Overall, it is a great way to get some added motivation to ride your stationary bike and one of the best leg workouts around. VZfit a fantastic way to get a workout in and is our Best Leg Workout VR Fitness Game of the Year.
Finalists
HotSquat 1 & 2
Pistol Whip
Beat Saber
BoxVR
SuperHot
Best Meditation VR App of the Year
Healium
While virtual reality is a great way to enhance your workout, it is also great for escaping from reality in order to de-stress and better your mental health. An excellent anti-anxiety tool is Healium as it reduces beta activity in the brain. It is a bit on the expensive side, as the monthly software subscription to use its 12 base VR experiences costs $29 per month, but subscribers get new content every 60 days and it is quite an impressive piece of software. To use Healium, you will need a brain-sensing headband (Muse 1) or other wearables to act as the controller and virtual reality headset.
Congratulations to the team as their app wins our award for Best Meditation VR App of the Year.
Finalists
Satori Sounds
FlowVR
ReMind VR
Guided Meditation VR
Best VR Headset of the Year
Oculus Quest
While it is not quite as powerful as some of its contemporaries like the Oculus Rift or the HTC Vive headsets, Oculus Quest is a game-changer for virtual reality. It provides a completely wire-free virtual reality experience that is perfect for working out and is a joy to travel with. It only takes a few seconds to set it up in a new workout environment and it has quickly amassed a number of fantastic virtual reality titles. Oculus really outdid themselves with the design, and it has helped virtual reality grow its user base while also offering up great experiences. Since it is perfect for exercising on the go, the Oculus Quest is a no brainer as our choice for the Best VR Headset of the Year.
Finalists
Valve Index
HTC Vive Pro
Oculus Rift S
PSVR
Best VR Fitness Accessory of the Year
VR Cover Foam Replacement Covers
Everyone that hits the gym knows that cleanliness and proper hygiene are key. Playing great VR fitness games means that players will be sweating a lot, and VR Cover's foam replacement covers are a blessing. Made for every major VR platform, they make sure the player feels comfortable and protects the headset by absorbing the sweat from the player's face. They can easily be washed, and there is also a disposable variant that is perfect for working out. We highly recommend using them and their essential nature makes them a lock for the Best VR Fitness Accessory of the Year.
Finalists
VR N Chill
Mamut Touch Grips
Esimen VR Face Silicone Mask Pad & Face Cover
Best VR Fitness Tracking App of the Year

YUR Fitness Tracker
YUR made it's way into the VR Fitness industry this year in a big way. Creating a fitness tracker that lets you monitor your caloric burn and activity progress in some of the biggest VR games out today. YUR has evolved into a standalone application that can become an overlay for any active game that you play in VR, even something like Tilt Brush. With the release of the Steam application in early access, YUR is now available to all PC VR headsets as well as Oculus Quest. The founders of YUR have big plans for their product in 2020. We can not wait to see what new features they bring to help get VR players fit.
Finalists
VR Health Institute Exercise App
---
As you can see by the great games listed above, 2019 has been an incredible year for VR fitness gaming. As a result, VR Fitness Insider wants to thank all VR game and accessory makers as they continue to push boundaries within the gaming and fitness spaces. Virtual reality has completely changed how many people workout, and it will continue to get even better as technology improves. As our Best VR Fitness Game of the Year winner and other award-winning titles demonstrate, there is no better way to get in shape than through using virtual reality.