Karen Cusimano is a Zumba instructor that stays in shape by playing active VR rhythm games like BoxVR and Audioshield. As an Oculus Rift owner, she has helpful tips for new VR users and shares her thoughts on games that are good for exercising the lower body. Keep reading to find out more about how VR is motivating her to stay fit!
VRFI: Tell us a little about yourself.
KC: First up, it's got to be said, I hate to exercise. Exercise has to NOT feel like exercise, otherwise, it's really easy for me to not do it. Started working out with video games back in 2011 after gaining a lot of weight after a major surgery.
Pulled out the Wii and started working my way through all of the fitness games for it that I could find: Walk It Out, Wii Sports, Fit, EA Sports Active, and Exerbeat. Then the games that changed everything: Zumba Core and Zumba World Party. I graduated to a couple of Zumba DVD sets, eventually started going to live classes, and then four months later, got licensed as a Zumba instructor and a Zumba Step instructor.
VRFI: How long have you been an Oculus Rift owner?
KC: Since August of last year, when Amazon had that really great sale on the Oculus Rift/Touch combo. I had gotten a Gear VR earlier in the year to find out how I liked VR without spending too much on it if I didn't. Needless to say, I did. 🙂
VRFI: How did you first begin your fitness journey with VR?
KC: I've been doing Zumba as my morning workout (45-60 minutes a day) for a few years, and after discovering I was wearing out the carpet in the living room upstairs, moved the workouts downstairs to the basement. Then found that doing that much Zumba on a concrete floor, even after adding padded floor tiles, was hard on the joints and such, so started looking for something low to no impact that I could alternate with the Zumba to reduce the wear and tear a bit.
I happened across an online article once about how some VR games made for a good workout, which I could vouch for, after 45 minutes of ducking and leaning and getting sliced and diced while playing The Tower had really worn me out a bit. Put two and two together, and I started looking specifically for good workout games that would give me a great excuse to spend more time with the VR toys.
VRFI: Are you using VR to be active or to get in shape, lose weight, build stamina, etc.? Have you had success/struggles with your goals?
KC: Primarily for weight loss. I like to eat (my motto has always been "Food: the most important meal of the day"), and if I don't work out, I tend to balloon out. I'd lost 30+ pounds working out with the various games for the Wii and tracking my calories with My Fitness Pal, but it was way too easy to start putting them back on again.
So, like everyone else, I put the New Year's "I'm going to lose weight!" resolution back into play this year to re-lose what I'd gained. Mixing up the Zumba with the VR workouts has helped — I dropped 5 pounds in about a month and a half since late January. I just have to keep a close eye on the calories in versus calorie burn ratio in order keep them dropping off.
VRFI: What are your favorite casual and active games to play? Why?
KC: I really don't have a lot of time to play other than an hour workout in the morning. Since I've only had the Rift since August, I'm STILL working out which games are my favorites, but I immediately gravitated to the roller coasters when I first got it, along with some of the quirky/cute shorter games like Mountain Goat Mountain, Esper Collection, and Loco Dojo.
I really like the underwater or space games, the ones that really show off what VR can do; the ones that make you really feel like you're there in the ocean or floating around in space (watch those accidental spins though. 🤢) I want to try the FPS/spooky dungeon type games, I've got a couple that I've bought, but that sense of "they're right behind me, aren't they?" tends to creep me out.
VRFI: On Facebook, you post about exercising by using BOXVR and Holodance VR. Why do you like to work out using these games? What makes them effective for fitness?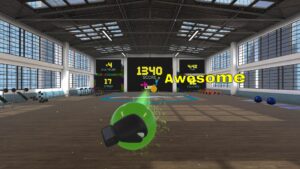 KC: The one thing that surprised me when I started actually using the VR games as a workout was the different muscles that I worked doing each one. I always figured with Zumba, that was a pretty good full body workout, and it is. But the first time I boxed with BoxVR, I couldn't move my arms for 3 days. Same thing after 50 minutes of Sprint Vector. After my first session with Holopoint, it was another few days before I stopped getting out of my chair like a 90-year-old man, my legs were so SORE!
So different games work different muscles and combining that with Zumba, I really feel like I'm getting a great all-around workout. I also really like games that let me import my own music. When I import my Zumba tunes, I get the best of both worlds at the same time.
VRFI: It looks like you really enjoy activities and VR games that have music and rhythm. Have you tried Soundboxing?
KC: I tried Soundboxing based on several recommendations. I can see how some people would like it. I just found it to be too busy on screen, and it really felt like I was just flailing around trying to connect with the targets rather than doing anything particularly musical with it.
I'm more with the folks who prefer Audioshield, although now that I've found Holodance I probably won't be playing Audioshield as much anymore either. In addition to the straight boxing moves, Holodance gives you the opportunity to be a little more musical with it, like painting or conducting in the air, which I love, plus it does a better job tracking the beats, PLUS it has those cool dragons in story mode.
VRFI: What makes VR so motivating to play?
KC: For me, it's fun, it's a great workout, and I get to play with high tech toys at the same time. It's a win, win, win situation! Just buy a cover for your headset so you don't sweat inside it too much. Because if you're doing it right, you probably will.
VRFI: Who would you recommend to play Hot Squat? Are there any VR games that you would recommend for our readers to try out that lends itself to a lower body workout?
KC: Hot Squat is probably fine if you've got good knees, since you're spending most of your time getting up and down into that squatting position. My knees have been pretty well thrashed for years, so extended repeating squats like that tend to hurt.
There are other games like Holopoint that give your lower body a workout. I didn't think I'd care for that one, I mean, how exciting could it possibly be to shoot arrows at transparent smurf blue boxes that just sit there? But when they do things like explode if you don't shoot them in time (and you can hear them starting to rev up just before they explode, so you're spinning around looking for them), and fire back at you when you do, all of a sudden it ramps up the gameplay. Add that electronic soundtrack, and you've got an incredibly exciting game!
In BoxVR, they've mixed in a lot of squats to some of their pre-programmed workout routines, so with that one, you're getting both the upper and lower body workouts in one game. But other good games that I will alternate playing as my workout are Sprint Vector, Audioshield (which is still fun), Racket: NX, Sparc (if I'm brave enough to try online multiplayer), and Fruit Ninja.
VRFI: If you could give any tips to new Oculus owners what would you share with them?
KC: Wait for the sales, never buy any of the games at full price, unless you really really want it right then, because no sooner than you buy it, they'll have it on special for half the price you paid for it. And buy it via the Oculus store if you can, things tend to start faster and without the glitches of buying the games from other services when you get them directly from Oculus.
VRFI: What do you hope to see more of for the virtual reality and fitness industry in 2018?
KC: Just keep releasing those high-quality games for the Rift. Even ones that aren't specifically made for fitness can easily become a workout game with enough movement. And who knows, maybe Zumba in VR? 😉
VRFI: Thanks, Karen!