The cord-free Oculus Quest has been a revelation for virtual reality fitness enthusiasts as it allows players to get their workout in with minimal setup and no fear of tripping over any wires. There is no device that is better suited to help you sweat off the pounds, and that is exactly why it won our Best VR Headset of the Year in our 2019 VR Fitness Awards. With the device being a huge hit during the holidays and many people picking up a Quest for the very first time, we here at VR Fitness Insider have put together a comprehensive guide of how to get started on your VR fitness journey.  In our Oculus Quest VR Fitness Guide, we will go over the best Oculus Quest VR fitness games, why you will want a VR cover, how to clean your device and protect against sweat, and how to turn your favorite games into a successful workout even if they were not developed with fitness in mind.
Why You Need a VR Cover For Oculus Quest
Our Best VR Fitness Accessory of the Year wound up going to VR Cover's foam replacement covers and for good reason. If you are working out in virtual reality you are going to sweat and there is no better way to combat it than using a replacement cover. The $29.99 accessory will absorb the sweat from your face and keep your Oculus Quest in perfect shape. This isn't a Quest specific accessory, as the company offers up a wide variety of VR covers for all of the major headsets.
VR Cover Foam Replacement
Cloth VR Covers
Alternatively, there is also a machine-washable cloth Oculus Quest VR Cover replacement available. These work great but you do need to remember to wash them. The nice thing is, they come in a pack of two so you always have a backup.

Universal Disposable VR Covers
A third alternative comes in the form of Universal Disposable VR Cover that is perfect for working out. You simply throw these away after each workout. These little covers will absorb most of the sweat, keeping your VR Form Covers dryer. We can't recommend these enough.
Beyond helping you battle sweat, these covers help make the headset much more comfortable to use. Rather than potentially digging into your face and leaving red marks, you will be able to put in a good workout and then clean up without any issue. Since you are going to be working out several hours each week in VR, you will want to have the most comfortable experience and VR Cover's foam replacement covers definitely do just that.
Moisture Wicking Sweatband
Another item that works well to control sweat while you workout is a moisture wicking sweatband or a full headcover. A bandana will also do the trick just fine.
Floor Fan
We recommend using a floor fan pointing right at you in your workout space. This really helps to keep you cool for those long VR sessions. It really is amazing how much a little airflow will help control the sweating.
How to Clean Your Oculus Quest & Protect Against Sweat
As previously noted in our Oculus Quest VR Fitness Guide, the best way to protect against sweat is to use a cover for your Oculus Quest. However, you will have to regularly clean them in order to stay sanitary just like any other piece of workout equipment. For the foam cover, you just need to use a cloth or anti-bacterial wipes to clean the headset. Once the sweat and grime is removed, you will have a headset that is like new. Cleaning Tip: Do not use cleaning wipes on the lenses. A microfiber cloth will do the trick.
The Best Oculus Quest VR Fitness Games
A virtual reality system is nothing without games, so our Oculus Quest VR Fitness Guide will begin by diving into the 10 best Oculus Quest VR fitness games before we deal with covers and combating sweat. After all, it's hard to get a good workout in if you don't have any games to play. While this is a great start, we recommend those looking for even more great games to workout to can check out our top 25 VR fitness games 2019 list, which includes several games on Quest and some great titles that are coming to the platform soon.
Beat Saber
Beat Saber has quickly become one of VR's most popular titles and for good reason as Beat Games' fantastic rhythm title delivers a great arm workout. It has the player using two katana-like beams to slice beats in specific directions to the rhythm of a song while also having to dodge oncoming walls. It's a complete blast to play and while the regular tracklist isn't filled with any big songs, there are some recognizable rock songs as DLC. Imagine Dragons, Panic! at the Disco and Green Day, all have song packs available. This is an essential VR game and one that every owner should pick up.
Beat Saber has a fitness rating comparable to tennis by the VR Institute of Health and Exercise. It was awarded our VR Fitness Game of the Year in 2018 and our Best Arm Workout Game of the Year in 2019.
BoxVR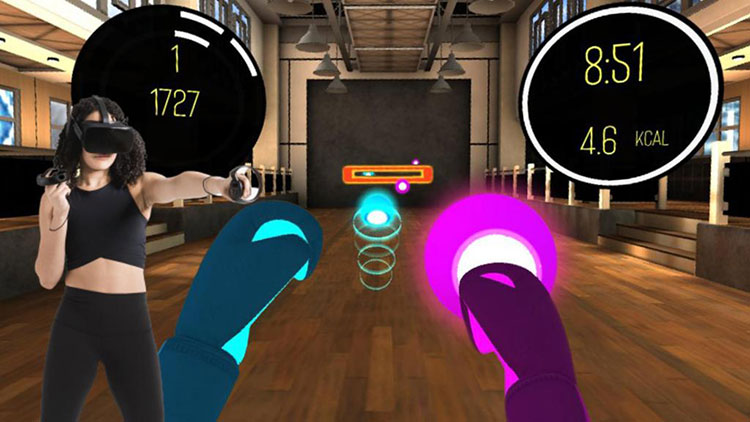 One of the best cardio workouts available in virtual reality is provided by BoxVR. It is the full package as the cardio boxing game has players using both their arms and legs while they punch to the rhythm of the music. What helps separate it from a lot of titles is the great ongoing support as it is regularly updated with new workouts by professional fitness instructors. Due to the new content, the workouts never become dull and its quick 15-minute workouts will help you get in better shape in no time.
BoxVR has a fitness rating comparable to tennis by the VR Institute of Health and Exercise. It won our Best VR Cardio Fitness Game of the Year in 2018 and our Best VR Fitness Game of the Year in 2019.
Knockout League
Those looking for a goofier workout will definitely enjoy playing Knockout League, as the arcade boxing title manages to provide a solid workout and some ridiculous fights. There are some rather strange scenarios the player is put in during the game's main mode as you will face off against a boxing octopus among other foes. There are also some great mini-games included, so this can be as intense or light as a workout one needs. For those looking to burn calories, we recommend the in-game training alley as it is perfect for getting a solid workout in.
Knockout League has a fitness rating comparable to rowing by the VR Institute of Health and Exercise.
Pistol Whip
Arguably the best first-person shooter to ever hit virtual reality, Pistol Whip allows players to live out their "John Wick" aspirations. Players get to make their way through over-the-top action scenes that could have been found in any Hollywood blockbuster and will have to use all of their abilities in order to deal with all of the foes attacking at once. Despite having music for each level, there is no set beat that players have to battle on and players have complete freedom as to how they tackle each stage. It also provides a fantastic leg workout, and is one of the most replayable VR workouts.
Pistol Whip has a fitness rating comparable to tennis by the VR Institute of Health and Exercise. It won our Best New VR Fitness Game of the Year and Best Action VR Fitness Game of the Year in 2019.
Racket Fury: Table Tennis VR
Racket Fury: Table Tennis VR is the best table tennis title to play in virtual reality, which is an impressive feat considering how many competitors it has. It winds up being a really intense test of your reaction speed and arms. Racket Fury has 16 different robot opponents to face off against, and each of them play with different strategies from the rest. The top-notch physics are really what make this one of the best Oculus Quest VR fitness games, and player's real-life table tennis skills will improve by playing it.
Racket Fury: Table Tennis VR has a fitness rating comparable to an elliptical by the VR Institute of Health and Exercise.
Racket Nx
One of the coolest virtual reality experiences is Racket Nx. The Quest title is a fun mix of Breakout and racquetball as players attempt to destroy a series of targets with a ball. Using a tractor beam, the can pull it back in and it has a surprising amount of depth to it. The title is also one of the best multiplayer VR games as it features great online play if one wants to test their skills against another human rather than against the artificial intelligence. Either way, the game delivers a fun time and a solid workout.
Racket Nx has a fitness rating comparable to an elliptical by the VR Institute of Health and Exercise. It won our Best VR Sports SIM Fitness Game of the Year in 2018 and 2019.
Sports Scramble
An Oculus exclusive, Sports Scramble is a sports title that allows players to put an entirely new twist on familiar activities. For example, the wacky sports mash-up has players playing tennis using a golf club and trying to hit baseballs out of the park with a hockey stick. Ridiculous in the best of ways, this Quest game is a lot of fun rather playing solo or with friends. It's not the most high-intensity workout available on the system, but it delivers one of the most enjoyable ones with a lot of replayability.
Sports Scramble is available now on Oculus Rift and Oculus Quest.
Superhot VR
Those looking for a great low-intensity Oculus Quest VR fitness game will want to check out Superhot VR. This first-person shooter is built around one gameplay quirk: bullets and enemies only move when you move. This turns every combat encounter into a puzzle game of sorts as players have to carefully plan out their attack. Players will be ducking out of the way and doing all they can to avoid gunfire, so it winds up being a great workout despite the slower pace. While great for fitness, it's also just one of the best gameplay experiences you will find in virtual reality.
Superhot VR has a fitness rating comparable to walking by the VR Institute of Health and Exercise. It won our Best VR Shooting Fitness Game of the Year in 2017.
The Thrill of the Fight
The last title in our Oculus Quest VR Fitness Guide is perfect for those looking for a more serious boxing title. They will want to check out The Thrill of the Fight by Ian Fitz. Despite being a few years old, this sim is still one of the best virtual reality titles available due to how realistic it is. To perform well, players will have to learn real boxing fundamentals like how to properly jab, hitting a speed bag, and how to duck out of the way of punches. It's a fantastic workout as players will be working their legs and arms while learning to box and no other boxing game delivers such a realistic thrill like this VR classic.
The Thrill of the Fight has a fitness rating comparable to rowing by the VR Institute of Health and Exercise. It won our Best VR Sport SIM Fitness Game of the Year in 2017 and our Best Boxing VR Fitness Game of the Year in 2019.
How to Further Your Workout In Your Favorite Oculus Quest Games
While there are plenty of incredible virtual reality games that are developed with fitness in mind, that doesn't mean that you can't get a good workout in while playing more traditional games. We have managed to put in incredible workouts in a number of first-person shooters and even role-playing games like The Elder Scrolls V: Skyrim VR. The key is to use weights to amplify your workout and to make sure you are staying active while playing.
One of the easiest things to implement is weights. Ranging from weighted vests to gloves and ankle weights, there are plenty of ways to make the act of moving around an exercise in and of itself. A cheap solution is to use a backpack filled with some heavy objects like books. We recommend players start slow with using weights and work their way up as they become more comfortable, though, as one can easily damage their back if they use them irresponsibly.
Beyond weights, players will want to make sure that they are playing games with fitness in mind. If a game is making you move out of the way from objects then be sure to do lunges and squats rather than just walking. If a game has you standing still constantly then jog in place in order to get your feet moving. These small differences can be all that is needed to turn a regular game into a great low-intensity workout that can last for hours rather than just a few intense minutes.
It's worth pointing out that these tips are not exclusive to non-fitness games. Even games that keep the player active can be improved upon with the right strategy. Making sure to squat in Beat Saber and using ankle weights will make that an even more rewarding gameplay session. Experimentation is key, but these tips can improve nearly any workout once you hit a plateau with the regular experience.
---
The Oculus Quest is an amazing virtual reality headset and is one of the best ways to work out. With an already impressive library of games and all the accessories you could possibly need available, it's an essential workout tool. Hopefully, our Oculus Quest VR Fitness Guide will allow you to get the most out of your workout. Remember, VR should just be part of your workout and you can build a great home gym with it as its core.