Trying to sort through the thousands of VR games online that are the best for fitness and getting your body tight doesn't have to be a difficult task. We've sorted out the best HTC Vive games for fitness that will get your heart racing and will skyrocket your workouts to the next level!
Each gaming title will work different muscle groups of the body and some can be used together to form a full body workout session for VR. Other games will be full body workouts on their own that will help active individuals tackle strength and conditioning plateaus with a weighted vest.
Get your Vive wands, your VR cover, sweatband, and Vive headset ready! Let's get started!
VR Boxing
BOXVR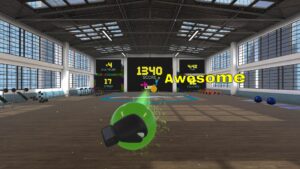 Punch orbs in a New York gym, punch skull heads in a graveyard, and more in BOXVR. This is a VR game that will test your coordination skills and endurance with streams of punch combos. As a boxing game that shreds the upper body, there's a lot of surprise squats and lunges that go into building up your score and score multipliers. This heavyweight VR game is going to light fat on fire while being great for cardio with multiplayer group workouts. It even has mp3 and Itunes support for your workout playlists. Check out VR Fitness Insider take on BOXVR here!
BOXVR, $19.99
Soundboxing
Blend your favorite music videos on YouTube with virtual reality and you'll get Soundboxing. This music powered boxing game is all about punching orbs to user-generated beat maps as players condition their body and set fire to their metabolism. Their beat maps can be designed and played in room scale, so you can expect there to be high and low punches where you'll have to squat down low to punch an orb. Punching accurately is a coordination skill but will also work the upper body, while squatting and tightening abs is going to be good for the core and lower body.
Soundboxing, $7.99
Knockout League
Do as Doug Johnson would do and join Knockout League, young blood! Step into this VR boxing game and get trained by DJ in Reflex Alley and then take to the ring for a real fight. Contenders in Reflex Alley will get a good mix of conditioning and stamina training by punching balloons, blocking medicine balls, and dodging out of the way of flying dumbbells! Step into the ring with Tri-Tip or the infamous Sir Octopunch for an upper, lower, and mid-range workout that's been given a Rowing rating by the VR Institute of Health and Exercise.
Knockout League, $29.99
The Thrill of the Fight
This is a realistic VR boxing sim that will have you moving around in room scale as you fight glove to glove against a realistic looking opponent. Jab and keep moving or take a body shot to the ribs against Ugly Joe. Keep a fighter's stance with one foot in front of the other and stay light on your feet to get a lower body workout. The Thrill of the Fight is the only fitness game that's been given a Sprinting intensity level by the VR Institute of Health and Exercise.
The Thrill of the Fight, $9.99
The Fastest Fist
Get some boxer's training with Bruce Lee and train smarter, not harder. Train in the ring with Lee as he tests your coordination skills and punch power with mitt work. The Fastest Fist rounds/levels will get harder as the trainer gets faster and throws out punch and block combos to keep your upper body and core fired up and focused. The Fastest Fist has room scale but this game is more of a localized block and punch VR boxer rather than a move around the ring and block kind of game. This VR boxing and training sim is rated with an intensity that's equal to Tennis by VR Institute of Health and Exercise.
The Fastest Fist, $9.99
Mech League Boxing
If you don't want to punch a cartoon character that looks human but like the idea of knocking out a robot challenger, Mech League Boxing is the VR boxing game for you. Get a workout in by training with a speed bag, punching bag, and some non-traditional weapons for a quick upper body coordination workout or a warm up to the main event. With lots of combo punching, weapon attacks, blocks, and waiting for the right time to counter opponents, the upper body is going to see lots of action. This game is standing only and is not room scale, so players will want to jog or squat in place during any downtime.
Mech League Boxing, $9.99
Player vs. Player (PvP) and Multiplayer VR
Sprint Vector
Race in a single player match or in multiplayer with up to 8 Vectorheads! Sprint Vector is a competitive VR racing game that puts you on challenging maps like Ra's Revenge and Castle Valhalla for some rip-roaring and arm-swinging good times. Your arms replace your legs in this sprinting game, so be prepared to sweat a lot. Pick a stance you can get comfortable with like a wall squat you can transition into a side lunge, or a power lunge with one leg in front of the other so you can swiftly maneuver yourself on the track and to activate your lower half when obstacles head your way.
Sprint Vector, $29.99  
Echo Arena
Fly around in zero-G as you propel yourself forward with a boost and work with a team of 3v3 to throw your team's disc into the other's goal. Strategize with your Echo Arena teammates and decide who and where to defend and when to make that game-saving goal. Put some force or a light touch behind a throw and bounce the disc around to each other to get your upper body and core moving and players can either sit or stand in room scale. Standing and competing in room scale with jumps, dodges, and squats are going to keep you balanced and stabilized with this fast-paced e-sport. This game isn't a Vive game traditionally, but players can use ReVive to play it.
Echo Arena, Free
Sparc
Square off against a challenger as you play Sparc, a dodgeball meets racquetball game for VR. Begin as a rookie for a low key intro into the game and work your way up the ranks to the pro-level for faster gameplay. Sparc has room for player progression and can be used as a warmup and a great upper and mid-body workout during extended play times. Moving side to side on the platform is going to be a good lower body workout if you squat and side lunge to avoid getting hit by your opponent's ball.
Sparc, $19.99
VR Sword Fighting
Sword Master VR
This medieval arena style game will have players hacking up largely armored warriors that surround them in Sword Master VR. Skeletons are rooting for your takedown so you'll have to react quickly to sword attacks with a shield in one hand and your own sword to counter strike. Move around in room scale and duck to keep your head for a lower body warm up and then get to the real upper body part with exaggerated sword motions.
Sword Master VR, $9.99
GORN
Step into the arena with some gladiators who are big, burly, and ready to tear you apart! GORN is a single and local multiplayer that relies on heavy upper body and core movement with purposeful sword stabs, nunchuck flinging, and war hammer attacks. While the room scale movements around the arena will get your heart rate elevated, parrying attacks and avoiding honey badger and fighter attacks are going to get your legwork in. If weaponry isn't enough upper body activity you can always try to punch waves of gladiators in the face.
GORN, $19.99  
Music, Rhythm and Coordination VR
Beat Saber
Get a full body workout with Beat Saber, a VR rhythm game that replaces your controllers with lightsabers! Listen to some fired up electronic music with a heavy drum beat as you hit and slash at red and blue directional cubes. Hit the cubes accurately for score multipliers and to scorch your arms. This may be a heavy coordination and upper body VR game but it also has a lower body and core element that will get activated when you dodge away from obstacles. Tighten your abs as you hit cubes to the beat and use room scale to move side to side.
Beat Saber, $19.99
Audioshield
Music lovers will get carried away on an addictive workout where they'll block red and blue orbs to the beat of electro dance tunes. Match the red orbs with the red shield and the blue orbs to the blue shield. Pick out your music files or stream your workout playlist on the Audioshield platform to make time pass by super quick. The faster the song that gets played, the faster the orbs will fly towards you, which means cardio! This is clearly an upper body game with all the coordinated blocking, but is also a core and leg workout when you incorporate squat jacks or jogging in place. This game is rated as intense as Rowing by the VR Institute.
Audioshield, $19.99
Holodance
Fitness fans who loved DDR back in the day will love Holodance, a dance to the beat of the rhythm VR game. This is a VR rhythm game that has players hitting, spinning, and holding notes as they appear with directional cues on them. The movements are based on osu! maps and can be paired with personal music playlists for customization and longer workouts. This is more of an upper body exercise game but also has a lower body element with specially placed low notes that some players have had to use their face to reach. This is great for the core and legs if players tighten their abdominals as they squat down to reach lower notes.
Holodance, $19.99
VR FPS, Archery and Range Attack
Skyrim VR
Run around in an open world that's made for exploring, trading, magic, and fighting with The Elder Scrolls V: Skyrim. As a console game turned VR, Skyrim isn't a fitness game by intention, it actually has a free motion system that can be pushed to move around in the game. Players have found that they lost weight, upped their cardio, and ignited fat burn when they used the free motion system and jogged in place at the same time. As for combat, the sword and shield combo and the range weapons like the bow and arrows are going to be good arm exercise between running through pillaged towns.
Skyrim VR, $59.99   
Holopoint VR
Become an archer that takes on blue samurais and ninjas with a bow and arrow. Aim and release the arrow at blue enemies and get some arm work in, while walking and dodging away from boomeranging arrows that get shot back towards you will have you putting in some legwork. Mix up lower body movements with side stepping, squatting and lunging if you can. Any lulls in gameplay can be supplemented with jumping jacks or running in place to keep the heart rate up. Holopoint has been compared to aerobic and cardio-heavy Swimming by the VR Institute of Health and Exercise.
Holopoint, $14.99
In Death
In a procedurally generated dungeon that's equipped with long corridors, stairways, and floor layouts, In Death is a patience-testing and arm shredding VR archery game. Use your crystal to dash and use the special arrow to teleport, or simply dodge and use your shield to take less damage. Big armored knights and hooded monks are going to be at every turn, so stand in doorways and shoot around corners. Hide behind walls by squatting or wall sitting to keep your core and legs active as you creep up on groups of bad guys. If you like the kill and return to start gameplay style or the artwork of Dark Souls this game's for you.
In Death, $19.99
Superhot VR
Time is set in slow-motion but can be triggered to move in real time with every quick movement. If you like slow moving exercise that's going to make even the most athletic person struggle, Superhot VR is a game you need to have. Shatter red polygonal fighters with a punch, take their guns away from them and shoot them with it, or use whatever weapons and objects are lying around to break them apart and move on to the next stage. Punching and even throwing back bullets in a mix of slow motion and real time is harder exercise than you'd first think. Be prepared to engage every muscle in your body when you work against the clock only to die over and over again. VR Institute of Health and Exercise rates it as being equal to Walking.
Superhot VR, $24.99
The Wizards
Is feeling like a wizard in your top ten life goals? If not, it should be. That's where The Wizards steps in as a pretty decent upper body game. Conjur and throw magic and projectile damage by doing specific arm movements like you would when throwing a basketball or baseball. Strike ogres and battle worn beasts as they chase you and you hold them back with your ranged wizard power. Arena mode is said to be the best workout for the game and is open enough for room scale movement to keep your legs engaged.
The Wizards, $19.99
Arcade Saga
With 3 games in 1, Arcade Saga can be used as a warm-up and a mid-range workout. It has games like Fracture, Smash, and Bowshot where players will hit a wall of cubes with a racket, target and aim balls at angles against walls (as seen in Ready Player One's OASIS beta) like virtual handball, and are put through coordination training with arrows and targets. The VR Institute of Health and Exercise gives it a comparable rating of being on an Elliptical.
Arcade Saga, $19.99
OVERTURN
For a light workout with tons of on the rails action and puzzle elements, play OVERTURN. Players become an anime fighter with killing power and amnesia, so you'll have to find your way out of the lab you're stuck in. Fight, punch, shoot, and block your way out to escape. Use your upper body to essentially shadow punch bad guys and to shoot weapons. Move around in place by jogging or doing butt kicks to get lower body activity.
OVERTURN, $29.99
Dracula: Vampire Vs. Zombies
As a B-movie themed wave shooter Dracula: Vampire Vs. Zombies has a cast of characters you might recognize: zombies, creepy dolls, wolves, rock monster, and Dracula. As waves progress, players shoot arrows, throw molotovs, and try to kill off bad guys wherever they appear. Some will jump, climb, and attack you out of nowhere so be prepared to put in some arm and legwork to attack them and dodge attacks in room scale.
Dracula: Vampire Vs. Zombies, $14.99
Rescuties
There are animal babies and regular babies flying through the air and it's your job to catch them in Rescuties. Well, there's also wizard babies and other different kinds that will get thrown at you. Toss them to safety and gather points and power-ups as you progress to different stages. This game can be played as a coordination builder that will work your arms and shoulders with catches and tosses. Playing in "giant mode" will work your lower body and core when you squat down and pick up Rescuties characters.
Rescuties, $0.99
VR Sport and Training
Goalkeep VR
Train in the offseason or have a bit of fun pretending to be a soccer goalie with Goalkeep VR. Get your gloves up and ready to block a pummelling of soccer balls. Goalkeep has different training games for a variety of replayability like Endurance, Two Balls, Increasing Speed, Bullet and others. Each one will give a well rounded upper body and coordination workout, while moving quickly towards blocking soccer balls in room scale will work the lower body. Be careful where you're moving and turn those boundary lines on! This game has been rated by VR Institute of Health and Exercise with an intensity of Elliptical training.
Goalkeep VR, $3.99
Racket NX
Neon polygon targets are set up in a wall formation to hit them with a ball like you would with racquetball or a futuristic version of handball. Play Racket NX solo or with a workout buddy as you rack up points, multiplier streaks, and get a great upper body workout and hone your coordination skills. Move in 360 as you hit the ball harder so it goes faster and your workout gets more challenging. The VR Institute of Health and Exercise says that Racket NX is a workout that's as cardio-tastic as exercising on an Elliptical.
Racket NX, $19.99
Bitslap
Want a High-Intensity Interval Training (HIIT) workout set in a VR game? Bitslap is the closest you'll get to high-octane cardio in quick bursts that are sure to make your arms and legs sore. Hit glowing cubes in the order they appear and break them until another one, and another one respawns until you get the order just right. Punch at cubes up high and dip down low so you can get a range of leg, core, and arm movement. Standing and flailing your arms doesn't count as exercise, put some effort into punches so you'll need those legs to stabilize you from falling over. Bitslap has been rated as being equivalent to exercising on an Elliptical by VR Health Institute.
Bitslap, $6.99
Hot Squat
If you want a game that solely focuses on strengthening your lower body, especially your quads and derriere, Hot Squat is it. Using your own bodyweight to drop down and squat through obstacles that are shaped like a person will keep your heart rate up and will get your legs shaking. Keep your arms up and back straight for good form and squat till you drop to your butt. This is a great go-to leg day game if other games you're playing have mostly upper body movement. This game is around the same level of intensity as Tennis per the VR Institute of Health and Exercise.
Hot Squat, Free