There's no question that virtual reality fitness games improve physical conditioning. However, there are a lot of people who might question whether VR legitimately boosts athletic ability and sports performance. It's easy to dismiss VR as simply gaming and thus forego any possible results that can come from it. The good news is that this mindset is changing with users explaining how they lost weight and reclaimed their health in VR. New research takes that one step further into the realm of sports. Data derived from a STRIVR Labs' football training study indicates virtual reality really does speed up reaction time and consequently improves sports performance.
VR's Impact on Sports
While we may be in the early stages of virtual reality, the discussion of it's ramifications has been ongoing for some time. However, few studies have been conducted to gauge just how much this technology improves participants' athletic ability specifically. STRIVR Labs, a virtual reality company based in Menlo Park, California, appears to be the trailblazing organization needed to prove that VR training really does have a positive impact on athletic performance for users of any fitness level. STRIVR took it upon themselves to study how VR impacts on sports training and their research has been very telling!
What Does the Science Say?
This research study was presented as a component of a Gatorade exhibit at Austin's popular South by Southwest festival. The researchers studied more than 700 people who either learned through STRIVR's VR training or with a conventional method like a two-dimensional video-based tablet. Each participant trained as a quarterback in a football simulation to learn the basics of the read option made popular by the Colin Kaepernick-led San Francisco 49ers circa 2012, where the quarterback either keeps the ball or throws it to a running back. Participants were tasked with deciding whether to pitch the football to a running back or keeping the football and making a run with it.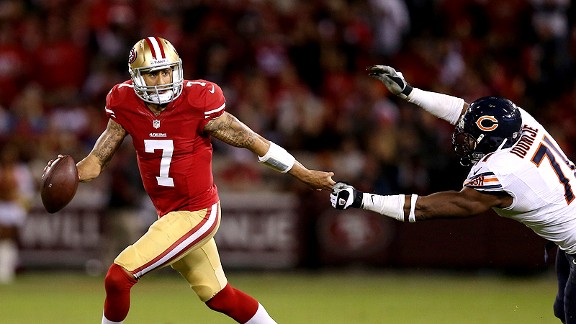 Overall, the data indicates that most users were able to understand the overall concept in a lot less time than you'd expect, but the real news here is how the people trained in VR reacted. Those who trained with STRIVR were in fact significantly faster at reading the play. They were able to make a decision on the play more than three seconds faster than those in the 'real' group, which is a 20% reduction of time to act on making the play. If you're a quarterback, coach or anyone involved in the game, that is huge! For defense, those trained in VR were able to read the play 82% of the time (the 'real world' trainers were only able to 76% of the time). To conclude the study, it was further discovered that those trained in VR were 12% faster overall as well.
This study is widely viewed as legitimate partially because the participants had minimal (or no) experience playing quarterback. Both scenarios required the participant to learn the read option football concept, predict defender's actions and select the proper course of action. Each participant engaged in a virtual reality assessment after the training concluded.
Once the initial training with virtual reality and 2D tablets concluded, each participant strapped on a HTC Vive VR headset and held a controller to select answers to questions. The participants then viewed practice footage from the exact same college football squad. Three specific play scenarios were provided to each participant. The participants were given questions in a three-dimensional space following each play. They were also provided with a voice-over to boot.
This research alone will have a huge impact on sports training. Jeremy Bailenson, founding director of STRIVR and professor at Stanford University sees this as a logical progression for athletes: "When virtual reality is done well, we measure exactly how the body moves, and we replicate the senses for those movements. … VR is a constant technological system that tracks body movement and updates the sights, sounds and touch based on those movements; you feel like you're mentally transported into a different place. … This is a game-changer."
Currently, STRIVR works with the Dallas Cowboys, the New England Patriots, the San Francisco 49ers, Auburn University, Vanderbilt University, and the University of Arkansas among others like the Detroit Pistons for anyone thinking this is exclusive to football. How long will it be before you see players testing out plays on the sidelines with a VR headset instead of small whiteboard? It could be sooner than you'd think with these results.